Zombirthday
Fortune Games® Slots Review of
Zombirthday

Slot Game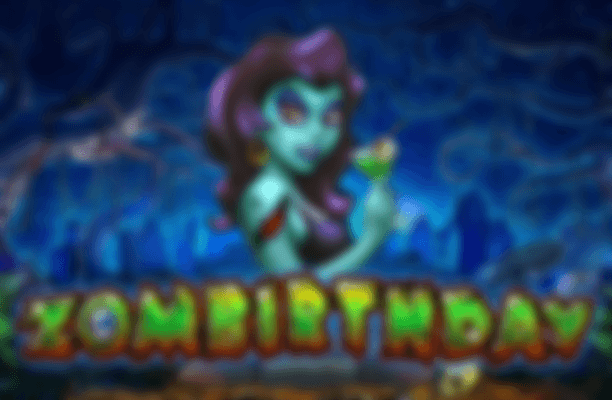 A review of Zombirthday
Our adventure will take us to the midst of the undead, so we hope you have slept well in preparation for this journey. What does a zombie do on his birthday? Do you know what a zombie does on his birthday? In our free slots game, Zombirthday, we're about to find out just what that means.
The good news is that we have hundreds of other slot games that you can choose from if this one scares you too much.
I found the graphics to be really impressive in this game, as you are taken into a dark world of zombies with Gothic tombstones in the cemetery as you try to find a way to the zombie's birthday party.
However, do you know how to spook them so that they run away? When the lights are turned on, watch how they scatter like scaredy-cats like they were frightened. In our opinion, they will not be blowing out too many candles on their birthday cake if they do not like the light coming from it.
The Zombie Birthday Party invites you to join in on the fun
There is a haunted graveyard in the town that will frighten you with its spooky-looking trees, misshapen headstones, melted candles, and spooky-looking trees. The game is a great Gothic cartoon with the added excitement of bumping into a zombie or two along your chosen path, as you tread carefully and carefully through the maze.
It is certain that you will find a blue skull on a platter when you get to the party, a green zombie wearing a paper party hat, a green female, a zombie dog, and a cake made of brains when you get there. A lot of the playing card symbols have been zombified as well, with bits in shreds and red splashes splattering throughout the cards.
There is a present waiting for you from the zombies
Zombies know how to throw a good party, with some great Ska beats going on in the background as you play pass the parcel in hopes of unwrapping the jackpot as you play pass the parcel.
In addition to the scatter symbol, the green-faced zombie is your wild symbol. It doubles your winnings and substitutes for all other symbols except for the scatter. You will be rewarded with 9,000 credits if you find five birthday boys and he will give you a present from them.
This slot features a blue-faced temptress as the scatter symbol and if you find three or more of this enticing lady, you will be able to trigger 15 free spins. Also, she is a very generous spirit, as wins during the free spins come with a 3x multiplier as well as the chance to win more spins if the scatter appears again during this round, which makes this game very exciting.
In gamble mode, you can also try to double your winnings by correctly guessing the colour of the next card. If you keep winning, you can gamble for up to ten times in a row, which would be nice. It seems that even the symbols on the playing cards are taking part in the fun and are dripping with blood. If you find three or more of them, you will also be able to increase your pot of coins.ncrease your pot of coins.
As an alternative to going to the paytable, you can click on each symbol on the reel to find out what it is worth if you find three or more of them.
There is no doubt that Zombirthday from Playson is one of the best video slots on the market, with its awesome animation and beautifully spooky graphics.
This game is highly entertaining due to the cartoonish quality of the imagery and the possibility to increase your winnings through the wilds, scatters and multipliers adds yet another level of excitement to Zombirthday.
In addition, it is also available for you to play on your mobile device and tablet, so you are able to have fun at any time of the day - or night.
*All values (Bet Levels, Maximum Win, etc.) mentioned in relation to this slot game are subject to change at any time.