Wild Joker Stacks
Fortune Games® Slots Review of Wild Joker Stacks Slot Game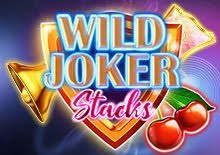 An introduction
Its unfixed reels make Wild Joker Stacks unique in the world of online slots. Players can adjust the size of the reels up to 5x5, resulting in more ways to win. Additionally, wild multipliers can be customized before each spin, and you can choose their size.
As you can see, Wild Joker Stacks departs quite a bit from the traditional formula. Fruit machine symbols, however, are more familiar, and you will recognize them instantly if you play them often.
The highest paying symbols are the lucky number 7, a golden bell, and some cherries. The symbols appear along with a variety of fruits and bars. If you land a diamond bonus symbol, you'll earn free spins, and you'll also receive special wilds with multipliers attached.
In addition to the 259 paylines, the Connecta Ways system offers even more chances to win. The symbols only need to touch to form winning combinations, which opens up a whole world of opportunities.
Soundtrack, graphics, and theme
Despite Wild Joker Stacks' innovative gameplay features, it still maintains a classic slot theme. As a result, all the classic fruit machine symbols are present.
With its purple and gold colour palette, this slot has a luxurious aesthetic, and symbols like the golden bell are particularly impressive. There is a soft golden glow around the edges of the symbols, which makes them appear all the more decadent.
We only have one complaint about the music. A laid-back tune is in keeping with the overall design, but the loop is too short and the music can become repetitive if played for a long time.
How Wild Joker Stacks Stack Up in RTP & Volatility
There is a top win of x28,200 with Wild Joker Stacks, which has an above average return to player rate of 97.78%. Big wins are still uncommon, despite that generous RTP, and patience is always required.
Playing Wild Joker Stacks
For your first few spins, we've put together this quick guide.
1. You can access the main menu by pressing the "i" button once the game has loaded. Get to know the bonus features, see the paytable, and read about the game rules here.
2. The reels of Wild Joker Stacks can be adjusted. Clicking the grid icon near the top right of the screen allows you to change their size up to a maximum of 5x5.
3. It is possible to alter the multiplier for wild symbols, which starts at x2. Using the wild icon at the bottom right of the grid, you can adjust the multiplier up to four times.
4. To adjust the size of your wager, use the "total bet" box.
5. The autoplay button can be found on the left side of the screen. Since autospins don't come with loss/win limits, you'll need to keep an eye on your balance if you set them up to a higher than average 500.
6. You can start playing by setting your budget and pressing the spin button! Responsible play is always a must when it comes to Wild Joker Stacks.
Sizes of bets and wins
Wild Joker Stacks has a minimum bet size of 0.40 and a maximum bet size of 500. A win of x100 is possible with x5 connected symbols.
Here are the top payouts for symbols connected by x5.
-Five diamond bonuses = x100
-Five Lucky 7s = x8
-Five golden bells = x6
-Five lemons = x4
-Five strawberries = x4
-Five triple bars = x2.4
-Five double bars = x2.4
-Five single bars = x2.4
The maximum payout on Connecta Ways is x28,200, and there are 259 different ways to win.
The Wild Joker Stacks bonus feature
Wild Joker Stacks features some excellent bonus features as you might expect from a slot with so many innovations.
We'll take a closer look at how they work since they can be lucrative.
Gambling on wild jokers
Players can adjust the multiplier on wilds up to a maximum of x4. You should keep in mind, however, that the higher the multiplier, the higher the wager.
The power of rowing
It is possible for players to add rows to the bottom of the grid, increasing its size to a maximum of 5x5. In addition to increasing your wager, this is also similar to the Wild Joker Bet.
Spins for free
Three or more scatter symbols trigger a free spin, a classic and much simpler feature. It might not seem like much, but your current multiplier is doubled, which could result in some hefty winnings.
In conclusion
We were worried that online slots were getting a little samey, but Wild Joker Stacks proved us wrong. There are a lot of innovations and exciting features in this game, and Boomerang Studios deserves credit for taking so many risks.
Customizability is one of the best things about this slot. The player's ability to change the grid size and multipliers gives them complete control over their experience, ensuring that each playthrough will be unique.
It is a fantastic achievement to achieve Wild Joker Stacks. It looks great, plays smoothly, and introduces some completely new features to the age-old formula of online slots.
*All values (Bet Levels, Maximum Win, etc.) mentioned in relation to this slot game are subject to change at any time