Wicked Tales: Dark Red
Fortune Games® Slots Review of Wicked Tales: Dark Red Slot Game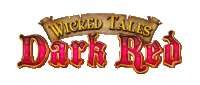 Graphics for Wicked Tales Dark Red
The traditional red riding hood story is reimagined in Dark Red. Ravenmire is a dark forest that is home to a beautiful, mysterious woman instead of a little girl going to see her grandma.
Instead of finding grandma, you will find a male vampire who wants to lure her deep into the forest, and on the far right-hand side of the screen you will see a small house. Although the house is small, the background is very well drawn, so it stands out - and the sharp graphics definitely add to the creepiness of the game.
However, there are some vibrant colours in the game, most notably the red cape worn by the woman. As a result, you don't need to worry about the graphics appearing gloomy since they are very crisp and wouldn't look out of place in a fairy tale!
This is the latest game in the Wicked Tales series, and many players assumed the graphics would be pretty average since it was released so soon. As it turns out, this is not true, as the graphics are excellent and fit in well with the other titles.
There is also an eerie soundtrack to the game. It is mostly suspenseful and quiet, but if you win, you'll hear a dramatic crescendo that might make you jump!
Wicked Tales Dark Red: How To Play
In this game, you will be familiar with the layout if you have played slots before. A total of 25 fixed paylines are available on Dark Red's three rows and five reels. Because it has a similar layout to other Microgaming slots, it isn't too confusing. If you want to get started, you will need to set your bet level and coin value first.
It costs between 0.25 and 200 coins per spin, which is a lot of variance, so you can spin the reels regardless of your budget or bankroll.
Additionally, the game has an Autoplay feature that lets you spin the reels automatically. By setting a specific number of spins, this feature is very handy. A minimum of 10 spins and a maximum of 100 spins are available.
Dark Red Payout Ratio for Wicked Tales
The return to player ratio (also known as the RTP) for Dark Red is 96.15 percent. This number represents how much money is paid out for every £100 spent on the game, but it is important to understand that this is a hypothetical number. Therefore, you could win much more than this... or much less!
Dark Red Volatility: Wicked Tales
With a decent amount of smallish wins, this game has a medium variance.
What You Need To Know To Win At Wicked Tales Dark Red
In this game, you must line up at least three matching symbols on the reels in order to win.
Some of the cash prizes may seem small, but in reality, most players are likely to win frequently throughout the game. Over time, the prizes may build up, and you could win much more if you trigger one of the bonus features.
Bonus features of Wicked Tales Dark Red
In this game, the Wandering Reels are probably the most important bonus feature. In multiple Microgaming slots, this bonus feature is found in an earlier Wicked Tales game that is Halloween themed.
Three reels and four rows make up the wandering reels, and their symbols spin together during every round. During this process, the block moves to another position on the reels (either the right, middle, or left). As a result, players can form 3x3 wins with symbols, resulting in very large wins.
There is also a bonus game called Wolf's Wheel. A free spins game and a generous Forest of Fortune Pick feature make this game very enjoyable. The wheel contains wedges that can pay out up to 20 times your stake, which is very exciting - you only need to spin it to get started.
Dark Red Top wins in Wicked Tales
In this game, you can win the top prize by using one of the two bonus features. In addition to these generous features, you can also accumulate multiple wins in the base game, so there are many ways to win. If you have a strict budget, you should be careful not to bet too much.
Wicked Tales Dark Red Free Spins
In this game, you can win free spins by triggering the Wolf's Wheel. There is no guarantee that you will win free spins, as you could win a cash prize instead.
Online casinos offer free spins on Wicked Tales Dark Red
Unlike some casinos, this game doesn't offer a free spins game of choice. Although it is possible to win free spins during the game, this is probably due to the game's lack of focus on free spins.
*All values (Bet Levels, Maximum Win, etc.) mentioned in relation to this slot game are subject to change at any time