White Rabbit
Fortune Games® Slots Review of White Rabbit Slot Game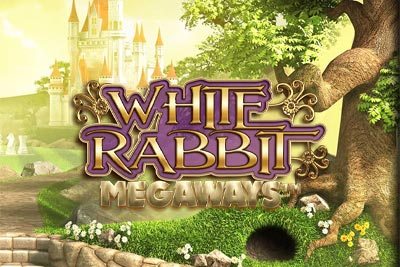 An introduction
With White Rabbit from Big Time Gaming, you are in for a thrilling online slots experience. With the MegaWays feature, the game offers more than 200 000 ways to win, and the Feature Drop feature allows players to purchase their own bonuses to customize their gaming experience and enhance their overall winning potential.
Theme and graphics
White Rabbit clearly draws inspiration from Lewis Carroll's 1865 novel Alice In Wonderland and its sequel, Through the Looking Glass.
Keeping with the source
As you play this online slot, you can access Carroll's fictitious world by going down the rabbit hole. In creating the White Rabbit, Big Time Gaming paid particular attention to graphics and animations. Hinter the reels is a beautifully drawn backdrop depicting Wonderland in all its glory.
Left is the caterpillar surrounded by big red and white mushrooms and his hookah pipe, and right is a grassy hill with a rabbit hole. As the sun streams through the leaves, green trees frame the top of the reels and a stone bridge runs along the bottom. In the feature drop, the backdrop falls away, revealing a dark hole lit by tiny lights.
Slots games featuring characters from Alice in Wonderland are a common trope in the online gaming market. This magical story has been the subject of plenty of titles, but Big Time Gaming comes up with a fresh take on it. With somewhat haunting figures, the art style is truly unique. The overall design of the game is stunning and presents a classic tale in a brand new way.
A comparison of White Rabbit's RTP and volatility
When the feature drop is added at full price, the RTP of this Big Time Gaming Slot is 97.72%, and when it is not added at all, it is 97.39%. Regardless of how we look at it, this is an outstanding return to player - we class an average return as around 95%, so this game is well above that.
Here's how to play
It's easy to get started playing White Rabbit. Choose your stake (ranging from .10 coins to 200 coins). You can then spin the reels by clicking the PLAY button. The Feature Drop bonus multiplies your stake by 10x and adds extra bonuses to the base game.
You will notice random bonus features being triggered throughout the game. You can choose between two options:
-Caterpillar: randomly adds three bonus wilds to the reels
-Bonus Wild: multiplies winning combinations by 2x or 3x
Up to 100 rounds can be automatically played with the Autoplay feature. When you reach a loss totalling this amount, the autoplay will stop, and you may also set a single win limit, which stops the autoplay when you reach a single win of a certain amount.
With expanding reels, you get free spins
If you land three scatter symbols on the reels, you'll receive 15 free spins. As part of the White Rabbit free spins round, the reels will expand to display up to 12 symbols per reel. With the Megaways game mechanic, you could have up to 248 823 ways to win in a single spin during the free spins round!
When any reel reaches 12 symbols, it becomes a Queen's Reel, which features extra wilds.
Expanding reels and retriggers
There are extra symbols that can be added to Big Time Gaming's White Rabbit during the free spins round. The cupcake symbol will be replaced by two new symbols when it lands. The number of symbols on each reel can be expanded from 7 to 12.
Any reel that expands fully will retrigger the bonus and give you 15 additional free spins! A single spin can earn you 90 free spins since up to five reels can turn wild!
A review of the White Rabbit slot machine
It's easy to see why online slots fans love Big Time Gaming's White Rabbit online slot. This game ensures an exciting online gaming experience with its innovative format, impressive graphics, and fun bonus features. There is something in White Rabbit for everyone, no matter what your gaming preferences are. There's no doubt that the game will please the crowd!
What Big Time Gaming is all about
Considering that Big Time Gaming has worked with some of the biggest names in the gaming industry, all of its online slots offer an engaging and exciting gaming experience.
Are you aware of this? Creative Director Ian Schmidt has worked on a range of Rock Star games while CEO Nik Robinson and CTO Huw McIntosh previously worked at New Tech Media and Openbet.
With this experience, Big Time Gaming can create an impressive array of games that provide players with the chance to win great prizes while interacting with unique and innovative gameplay. Danger High Voltage, Queen of Riches, and Starquest are among the top-performing titles from Big Time Gaming.
*All values (Bet Levels, Maximum Win, etc.) mentioned in relation to this slot game are subject to change at any time