Wheel Of Amp
Fortune Games® Slots Review of
Wheel Of Amp

 

Slot Game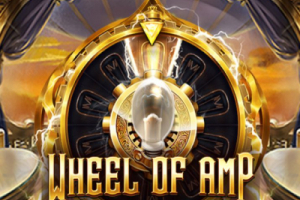 Red Tiger Gaming released Wheel of Amp on 18th March 2021. Agent Royale, Path of Destiny, Reel Keeper, and Aztec Spins are some of Red Tiger's most popular online slot games.
 Steampunk is a retro-futuristic genre that celebrates the technology and designs of late 19th-century engineering, which is the inspiration for Wheel of Amp. Wheel of Amp boasts top-notch graphics that make you feel like you're playing a video game rather than a slot machine.
A 5*5 set of reels with 25 paylines can be expanded from a 3*3 set of reels with nine paylines in Wheel of Amp. From as little as £0.10 per spin up to a maximum of £10 per spin, you can place your bets.
This is a great game for beginners or anyone looking for some fun. In spite of the relaxed nature of this slot game, there is still a chance to win a very large amount of money with the maximum jackpot of 7303x your stake. Furthermore, the game comes with exciting bonus features like free spins, multipliers, a bonus wheel, and more.
An illustrious steam train's first-class lounge is the setting for the game. Gold-plated carriages have large windows that allow passengers to see the scenery as the train hurtles across the countryside.
From the reels' left window, you can see a hot air balloon floating in the sky. With the game's logo that features mechanical cogs sitting proudly on top of the reels, the reels are enclosed in a decorative golden border. 
Fancy trains in the 19th century had navy blue patterned wallpaper on their walls, similar to the backing of the reels.tunes made from popular instruments of the time. Violins, pianos, wind instruments, and light percussion instruments are included. As a result, they create a song that will help you relax into a long session of spinning and chasing big cash prizes.
With a gentle thudding sound, the reels rotate and stop one by one. When you win, you hear a short celebration noise followed by a cha-ching sound to let you know you've won.
It starts with a 3*3 grid with nine pay lines and moves up to a 5*5 grid with 25 pay lines as the reels expand. Landing three or more scatter symbols will trigger the wheel amp feature, allowing you to expand the reels and unlock the high paying symbols.
Combinations of three or more matching symbols on a winning pay line result in regular payouts. In order to win the maximum payout of 7300x your stake, you will need to place bets between £0.10 and £10 per spin.
*All values (Bet Levels, Maximum Win, etc.) mentioned in relation to this slot game are subject to change at any time