Book of Spells
Fortune Games® Slots Review of Book of Spells Slot Game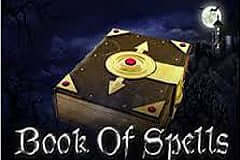 Slot machine Book of Spells by Microgaming
What could be better than a slot machine that is perfect for the month of October? Despite the fact that it is best played during the month of Halloween, Book of Spells is one of those games that can be enjoyed all year round, although it is more powerful when played during a full moon.
As a result of their efforts, the witches of a local coven have discovered the book of spells, the ultimate guide to becoming a powerful witch, and the magic inside it has the potential to be used for good or for evil. Our fate and that of those whom we know will depend on the way by which the witches choose to explore the new abilities they have acquired.
Although you will be brewing a lot of potions, watching as they learn the process with you now as their apprentice, you must always keep in mind what your quest is all about: stopping any bad things from happening to you. Win the jackpot of x5,000 when you play this game. You can either do either of those two things or both of them, and the Book of Spells slot machine will once again be safe from harm.
The Opening of the Book
In contrast to normal books that simply open and close when you want them to, this particular tome has to be persuaded into willingly revealing its secrets, and would you believe that the only thing that prompts it to open and close is money. It was shocking to us as well, I know.
The Book of Spells will let you alter the paylines as you see fit, but you will not be allowed to place a bet that is lower than 0.05 or higher than 2 coins, which means that you will always have to play with either a small stake of 0.45 or a large one of 18. It is worth mentioning that, despite the fact that the book may frown upon caution, you can play with any amount you feel is most comfortable for you. 
When you choose the Max Bet button, you won't only be able to change the wager amount, you'll also be able to begin the spins as well. It is much the same as what the Autoplay feature does, except it does not affect your cashflow in any way, it only helps you manage your playing time. 
The toil and trouble of it
It is during the free spins that the book comes into its own, as it activates a series of 10 free spins that the book takes on a life of its own. In the course of this process, a certain symbol will be selected, at random, at the beginning of the rounds, and once it is chosen, it will become special for the remainder of the rounds. The symbols will give you a win when they appear, however, if they appear in a winning line, then they will expand across the reels, giving you even more winning chances. Your returns will be greater as a result of this expansion.
One of the things we like most about the game is that the waves can be triggered during your initial spins, the only downside is that the book will not re-select a new symbol, so you will still be playing with the old one. It doesn't really matter, but it might have been nice to have had more options within this mini-level, even if it didn't make a big difference.
Besides that, there isn't much else to trigger or open up when it comes to this book, which seems sad considering it is intended to contain the secrets of witches and their covens. Not even the lead witch can do anything more than give you 5,000 credits. It's all fine and dandy if she does that, but shouldn't she do something else, like become a wild or sub-symbol for us to use? No, that's fine, we're a bit deflated now, and we don't quite know how to deal with it.
There are many lies in the book of lies
Despite your best efforts, Tom Horn, I must say that this game is not filled with spells and magic; it only has one bonus round, and that is a rather simple setup that does not require any innovation on your part. In retrospect, there are so many ways in which this theme could have been expanded upon and made tangible, as opposed to just including one or two features, there are so many options. It does not count in this case since it is possible to turn off the gamble option if you want to.
There is a feeling that this has been made purely for the purpose of making money, and yes, I realize all games are guilty of this, but not all games make it so obvious to the player. This time, you failed to deliver the substance that your audience is searching for, and it was much needed and very much wanted from you. If you are looking for more stimulating Tom Horn activities, you might want to consider Hammer of Thor or Disco Fever.
*All values (Bet Levels, Maximum Win, etc.) mentioned in relation to this slot game are subject to change at any time