Volcano Eruption
Fortune Games® Slots Review of Volcano Eruption Slot Game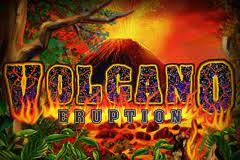 Slot machine called Volcano Eruption
You're probably on the lookout for one of the hottest slots games on the planet right now - then look no further than Volcano Eruption, a 5-reel slots game from Nextgen that is a real blast to play. In spite of the fact that it's not quite as advanced as some of the newer 7-reel slot games that have been released online lately, we can personally attest to the fact that this game certainly stands out when it comes to its technological features.
The game is hot not just because of the molten lava erupting from the volcano at the center of everything it has to offer, but also because there are a plethora of hot payout options flowing out of it all as well as some hot bonuses.
Can you tell me if it is hot enough?
There is no doubt that this game will be hot enough even for the most ardent of slot players to fall in love with it while set within a tropical forest. It is an enjoyable game that boasts vibrant graphics and a wide variety of wildlife, including lizards, parrots, monkeys, and a host of other critters. Aside from that, it also features Wilds and Scatters as well as a truly unique themed feature called the "Eruption Feature.".
What is the status of the payouts? Do they seem to be flowing?
In order to get the lowest payout on the slot machine, you must match the numbers 9 or 10 in quantities of three, four, or five which will pay you between three and one hundred times your stake. In the event that you manage to match a similar amount of letters, your winnings will be slightly higher, where five As or Ks will net you 150 times your winnings. For some strange reason, even though these symbols are more at home in video poker games, they work well for this slot machine for some reason.
With the matching of the animal symbols, the payouts get even hotter. Three ape symbols can net you between 15 x and 100 x your winnings, three parrot symbols can net you between 3 x and 250 x, and three lizard symbols can have you winning 3 x to 500 x your wager.
There is no doubt that payouts hit boiling point when you start reeling in those bonuses. In this slot, wild bonuses appear on reels 2, 3 and 4 and, as they substitute for all other symbols except scatters, you will soon start racking up your winnings as soon as you play this game.
In order to double your winnings, you need to land two scatter bonuses anywhere on the grid of 3 x 5 reels. It is worth noting that if you manage to match 3 scatter symbols on the grid, you will get a massive 5-times your winnings, and you will also start the game's biggest bonus of all, the Eruption Feature.
In the Eruption Feature, 3 volcano symbols will trigger five re-spins, while reel 3 will expand so that wild symbols cover all symbols on the reel. In order to increase your winnings even further, you will also have the opportunity to have selected symbols become Wild Symbols.
Is it too hot to handle?
No, absolutely not, this is a slot machine game that can be played by people of all tastes regardless of their preferences. Players who are new to slots games and who want to play for small stakes can enjoy playing from as little as one line at 0.01 - whilst high rollers can enjoy playing for a max of 25 lines at 2.00. There is also the option of playing three, five, fifteen, and twenty five combinations of lines, in addition to stakes that range from 0.02, 0.05, 0.1, 0.2, 0.3, 0.5 and 1.0.
Can the volcano ever go dormant?
There's no denying that this casino game is vastly different from many of the fruit slot machines that flooded the market when online casinos first emerged. The volcano isn't lying dormant with its fun graphics, plenty of lines and stake options, a variety of symbols to pay out on, and the unique Eruption Feature. It is hoped that the payouts will be erupting in the foreseeable future and that the payouts will be exploding in the near future as well!
*All values (Bet Levels, Maximum Win, etc.) mentioned in relation to this slot game are subject to change at any time