Viking Runes
Fortune Games® Slots Review of Viking Runes Slot Game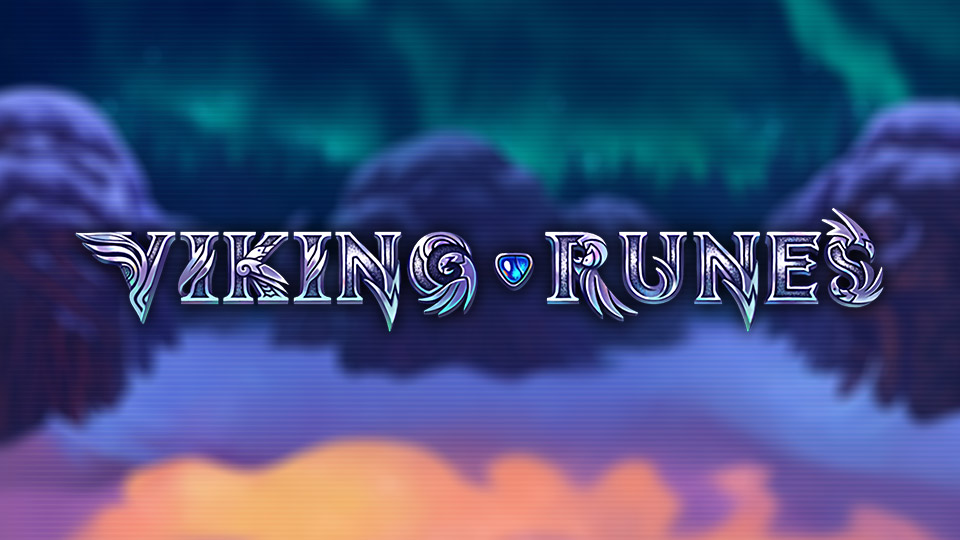 The introduction
As part of his quest to understand the significance of the runes, Odin gored his chest with his own weapon and hung for nine days and nights on the world tree Yggdrasil.
Runes were used by the Norns to bring fate up Yggdrasil's trunk and branches and into the nine worlds beneath its boughs. Norns used the runes to carry fate up the trunks and branches of Yggdrasil to the nine worlds between its bark, symbols originating from the Well of Urd, the root of fate.
Viking Runes, the latest video slot we're reviewing from a game developer called TrueLab, follows the Norse theme we've seen in a number of video slots. The slot will be released on the gaming platform of Yggdrasil, in keeping with the theme of the game.
Betting options and format
Viking Runes uses a cluster pays system, in which a win is awarded if six or more identical symbols appear horizontally or vertically. In the event that more than one cluster lands at the same time, they will all be considered wins. Clusters that win are then eliminated from the grid, allowing new symbols to appear. It is possible to get a string of wins from a single spin, which will only stop when there are no more winning clusters.
From 0.40 to 40 credits per spin, Viking Runes caters to players of all budgets. In addition, the game is entirely mobile-optimized, so you can enjoy the action wherever you are.
Theme and graphics
In the sagas, runes were said to have magical powers, and the background artwork in Viking Runes supports this claim. In the top portion of the screen, the Aurora Borealis lights up a rugged mountainous area surrounded by violet snow. With the heads in the stone peering out like earth spirits, it emits an eerie light. A horn-helmeted warrior stands beside the grid, ready to strike it with his Warhammer at any moment.
There's no doubt that Viking Runes is a fantastic-looking slot; that's clear as soon as you load up the game; that's true for virtually any slot released on Yggdrasil's platform.
RTP and volatility of Viking Runes
Similarly to many Cluster Pays slots, Viking Runes offers frequent and often long-drawn-out wins, and it has a hit frequency of 31.8%. The higher-paying symbols in the base game can lead to payouts worth 800X your stake.
96.2% is the game's RTP, and you won't find it offered in different RTP settings at different online casinos.
Added Bonuses
We'll take a look at a few different bonuses and features in Viking Runes below, including how they work.
Wild Lightning
Lightning Wilds are a key part of how the video slot works, and there are four of them stored in a meter found on the right-hand side of the grid. A lightning wild is activated when a winning cluster of symbols appears on the game grid, and then is placed at a random position. Lightning wilds can appear up to four times on a single spin, increasing your chances of continuing your winning streak.
Modifiers at random
In the base game and the main bonus round, there are three random modifiers that can activate at any time; however, only one can activate at a time.
Whenever a losing spin is triggered, the Runic Shuffle is activated; when activated, all symbols are reshuffled, guaranteeing a win.
In addition to these reel modifiers, the Spell of Ancestor can also trigger randomly once a cluster sequence has ended, transforming all lower-paying symbols into higher-paying ones.
Viking Sorcery is the third reel modifier in the slot. When no more wins are formed after a cluster sequence, anywhere from three to nine wilds are added to the game grid at random.
Bonus spins
Five consecutive winning cascades during the base-game trigger the free spins feature, which awards you with six free spins. Each spin during the free spins bonus round sees all 4 Lightning Wilds added to the reels - and there's also a progressive multiplier that increases when one of the wilds is involved in a winning combination. It is not possible to retrigger the free spins.
A review of Viking Runes
Viking Runes may have been influenced by Viking Runecraft, and both games have nearly identical names, but TrueLab's game seems to be more prominent. You must land successive cascades to receive free spins, so it's not as complicated as it sounds. There are many sporadic bonuses in the base game, but Viking Runes is the easier game overall. The paytable in Viking Runecraft is similar to the instructions in a roleplaying game. There is likely to be enough variation between the two games to prevent complaints about "copying".
Additionally, Viking Runes offers a real free spins bonus, which is a welcome addition - and something that we feel actually works well. In addition, the slot offers big win potential, with the ability to win up to 25,000X your stake on a single spin - with much of that potential concentrated within the free spins round.
This is a great effort from TrueLab and Yggdrasil, and we believe Viking Runes will be a relatively big success on release. This game is likely to appeal to all types of players thanks to its great graphics, interesting gameplay mechanics and high win potential.
*All values (Bet Levels, Maximum Win, etc.) mentioned in relation to this slot game are subject to change at any time