Valley of Fortunes
Fortune Games® Slots Review of Valley of Fortunes Slot Game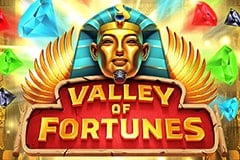 The introduction
There's just something about valleys that makes developers think of slots games, like Valley of Fortunes, Hidden Valley, and Valley of the Gods!
Soundtrack, graphics, and theme
Cairo is the setting for the game, with the reels held between two elaborate columns, overlooking the pyramids. You're drawn into the gameplay by its slick design and atmospheric music.
RTP & Volatility of Valley Of Fortunes
A 96% RTP is offered by Valley of Fortunes. An average payout for an online slots game indicates that there are some good payouts to be had. It's definitely not one for the fainthearted, as this slot is highly volatile! If you want to win one of the seriously big cash prizes, you may have to wait for a long time to trigger the bonus round.
Due to the random number generators within each slots game, it's always a matter of luck in the end. It takes time to learn how a game works, but the more you play, the better you become at it. When you wager real money on it at an online casino, that can be a distinct advantage.
What You Need To Know To Play Valley Of Fortunes
Even though Valley of Fortunes doesn't play out like most other slots, the controls are still exactly the same.
1. You should decide how much you are willing to wager on each spin. While theoretically possible, this isn't a game to play for half a dozen spins in hopes of attracting a big cash payout. 
2. To adjust your wager, use the arrow keys on either side of the Bet window.
3. To play one game, click the Spin button. It's best to hit the Autoplay button since this is a game that rewards long-term players. You can choose how many automatic spins you want, your stake and whether you want the feature to end early based on losses or wins. You can regain control at any time by tapping on Autoplay again.
4. View the game's rules and payouts in the menu, as well as adjust the game's sounds.
Paytable Wins & Bet Sizes
Valley of Fortunes does not have paylines or ways to win. There are mostly empty blanks, with blue, green, and red jewels awarding the amounts displayed. Most of your wins will be blue gemstones, which pay out the lowest returns, but if you're lucky, you might hit some high-paying reds.
Listed here are the potential awards that each gemstone can deliver as multiples of your stake.
~Blue gemstone = 0.2x, 0.4x or 1x
~Green gemstone = 2x, 4x or 10x
~Red gemstone = 20x, 100x or 200x
Bonuses in Valley Of Fortunes
Valley of Fortunes' bonus feature round is hard to categorize. The bonus isn't exactly a free spins bonus, but it isn't really a respins bonus either. When you see three or more scatter symbols, the bonus is triggered, but not the usual way - you'd expect it to be triggered by one single scatter symbol. Nevertheless, every blue, green, and red jewel in this game acts as a scatter. As soon as you land three jewels on the reels, the three lights will blaze in the wings at the top of the screen. The Racking Up Riches Bonus is your reward for making it this far.
A hidden chamber is the setting for the bonus round. Columns of game symbols fall from above. New symbols cascade from above as black symbols disappear. As jewel symbols stack up, their sums increase when a gold symbol lands on top, triggering a 10x multiplier for every sum within that stack. At the end of the bonus round, one of the stacks will reach the top, and you will receive the value of that stack's win. When you don't fall jewels for two consecutive rounds, you're given one Last Chance Spin to try and get back into the game.
A review of the overall experience
Although Valley of Fortunes looks and sounds amazing, the high volatility made it difficult to enjoy - although high rollers might feel differently! While there are some huge cash prizes to be won, we were frustrated by the abundance of jewels that vanished as the reels stopped! Nonetheless, it's beautifully done, with an exciting bonus feature, so give it a try and see what you think!
*All values (Bet Levels, Maximum Win, etc.) mentioned in relation to this slot game are subject to change at any time