Valkyrie Returns
Fortune Games® Slots Review of Valkyrie Returns Slot Game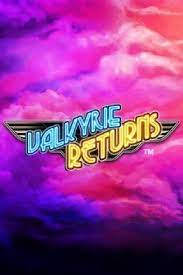 An introduction
In Valkyrie Returns, Norse mythology is updated to encompass the titular characters. This game puts the Norse female figures who decide who may die in battle and who may live into a vintage film noir styled romp with symbols representing a host of Valkyries, as well as the trappings associated with surveillance and travel, including binoculars, passports, and lipstick-sealed envelopes.
With 243 paylines across the five reels of this three-row, five-reel online slot, every possible combination results in a winning line. A symbol will begin to form a valid combination if it appears in any position across consecutive reels reading left to right. Whenever five symbols appear on consecutive reels, the bigger wins are landed. There are always active paylines and stacked wins in order to help players grow their winnings.
Graphics, Soundtrack & Theme
Valkyrie Returns fully embraces its vintage-styled aeronautical heart, set amid what can only be described as an angry sky. The logo at the top of the screen and the clean black reels are surrounded by neon-styled graphics.
Although the rendering of symbols and other characters is not the most beautiful, this game has clear graphics that would be easily visible on screens of all sizes. To help players know where their victories came from, winning symbols are surrounded by animated borders when features are triggered.
Overall, the graphics are not as detailed and complicated as you would expect from a new game in 2020, but this could affect bandwidth consumption and playability on less advanced computers, tablets or smartphones, making Valkyrie Returns more accessible to more people.
Featuring muted trumpets, Valkyrie Returns' soundtrack evokes the sound of a speakeasy with its laid-back jazz style. In this game, the balance between music and sound effects used to announce wins and the appearance of bonus scatter symbols is skewed heavily in favor of the sound effects. Unfortunately, this results in an overall unpleasant listening experience. It is recommended that you mute the game as this is so distracting from the soundtrack.
Returns on Valkyrie Returns and volatility
Valkyrie Returns' long-term average RTP is slightly above average at 96.01%. High volatility means that while high jackpots are available, patience is required when waiting for them.
The Valkyrie Returns Gameplay Guide
1. Checking out the paytable is a good first step when loading up a new game. This shows the wins available when certain symbols appear on the reels in winning combinations. Other information about the game can also be found in the paytable, including information about wild symbols, how scatter symbols trigger the bonus game, and basic rules. You can access the paytable by clicking the question mark icon at the bottom left of the screen.
2. Simply toggle the plus and minus buttons at the bottom left of the screen to set the bet level.
3. The autoplay feature in Valkyrie Returns allows players to run the reels up to 100 times automatically. At the bottom of the reels, there is a button just to the left of center that allows you to access this feature.
4. In the information console, you can press the reel spin button at the bottom of the reels if you are satisfied with your bet level and want to manually spin the reels.
5. Playing Valkyrie Returns responsibly means setting a budget and sticking to it during each session. Stop playing when you've had enough fun.
Paytable Wins & Bet Sizes
This corresponds to a total stake of 0.25 per spin at the minimum bet level of 0.01.
With a maximum bet level of 1.00, the total stake for the spin is 25.00.
The Valkyries that make up the major prize symbols in the game are referred to as Blonde, Brunette, Red Head, and Black Hair, which would displease Alison Bechdel.
If you match five blonde Valkyries on a payline, you will receive 10x your total wager. When five Black Hair or Red Head Valkyries are revealed, you will receive 6x your bet, and when five Brunette Valkyries are revealed, you will receive 5x your bet.
243 paylines allow players to win more than once during a spin, allowing for some hefty wins if symbols line up.
Bonus features in Valkyrie Returns
When three or more scatter symbols appear on the reels, a free spin bonus is triggered. If the scatters appear during free spins, 15 free spins are triggered, which can be retriggered.
A random expanding wilds feature and undercover Valkyrie feature can also be triggered on any spin. You may also like these other games with expanding wilds bonuses if you like games with expanding wilds.
Verdict: Overall Review
It is an engaging and interesting game that could have benefited from more detailed graphics and a better balance between sound effects and soundtrack.
*All values (Bet Levels, Maximum Win, etc.) mentioned in relation to this slot game are subject to change at any time