Underwater Odyssey
Fortune Games® Slots Review of
Underwater Odyssey

 

Slot Game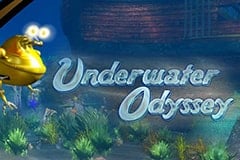 Game developers Eyecon, who brought us the popular Sugar Train slot game, have now made a new slot game themed after items found at the bottom of the deep blue sea.
During Underwater Odyssey, players have the opportunity to win free spins, multipliers, and see what items have ended up stranded on the shore. The games include treasure chests, fish, anchors, rubies, canons, and even a boat steering wheel!
In Eyecon games, players can listen to a soundtrack to accompany their play. Underwater Odyssesy's music, however, can get quite repetitive and ultimately annoying. The repetition can get too much for some players after a while, so it's smart to turn it off after a while.
However, visitors should give the Underwater Odyssey slot game a try first, as tastes differ and they might enjoy the sound it offers.
A Tranquil Surrounding for Players to Enjoy
This game's overall graphics are calming and tranquil, providing an ideal setting for a set of reels to spin. There isn't much farther away from players' lives than the bottom of the ocean if you want an adventure that's far from land.
As the game revolves around an underwater adventure, the game's color scheme is blue throughout. There are floating plants and a colourful coral surrounding the reels, but the content falling down the reels is what will capture the players' attention.
The items that could fall down the reels are: gold coins, rubies, anchors, a group of fish, a single fish, a skeleton's head, a canon, a steering wheel, and an octopus or a treasure chest. A win on some of these reels, such as the treasure chest, octopus, steering wheel, and cannon, only requires two of the same symbols. As a result, players can win quite often on a game that already offers 25 winning lines!
An In-Play That Has Style and Practicality
In-play functions are incredibly smooth and easy to understand, as one would expect from a market leader's game. Visitors to this slot, regardless of whether they are new to online casinos or regulars, won't be intimidated by the idea of changing stakes and bet amounts. You can do this by clicking the 'Bet' and 'Lines' icons located at the bottom of the screen.
The top of the screen shows how much credit players have and how much they're betting on the next spin, which will change if the bottom buttons are pressed.
Autoplay is an option for those who'd rather let the computer do the work for them. When this feature is triggered, the computer will play up to 100 spins for the player. Meaning the slot enthusiast can spend time doing other things or just sit back and watch it all unfold, either way, the offer is there.
Free Games and Bonuses – This Is Worth the Hype
An Underwater Odyssey slot game wouldn't be complete without free spins and multipliers.
Yellow submarines are scatter symbols in this game - it's not often a scatter symbol is also a Beatles song! Submarines will replace all other symbols on the reels except for the ship, and they will trigger up to 25 free spins. A line of three free spins will grant the player 15 free spins, a line of four will grant 20 free spins, and a line of five will grant 25 free spins.
The Underwater Odyssey slot game also offers two other bonuses; Sunken Bounty and the bonus feature. When three or more of the said icons appear anywhere, the Sunken Bounty feature is triggered. In that case, players will choose a porthole and each one will have a multiplier value - some reaching 100!
Players can win up to a 500 multiplier in the bonus feature. When the starfish indicator reaches the top starfish, this feature is activated!
It's never been a better time to take an Underwater Odyssey. When players start betting on this one, Eyecon might be on to a winner.
*All values (Bet Levels, Maximum Win, etc.) mentioned in relation to this slot game are subject to change at any time