Tin Town
Fortune Games® Slots Review of
 

Age of the Gods Athena vs Ares

 

Slot Game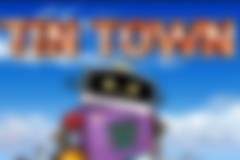 Tin Town Slot Machine

An Entertaining Robot-Themed Casino Game, Tin Town Is A 5-Reel, 25-Payline Slot Game Created By Eyecon. In Terms Of Robotic Casino Games, Tin Town Is A Bit Of A Novelty, Both In Real Life And Online.

A Range Of Products Are Included In The Game To Help Bring The Robot To Life, Such As Batteries, Springs, And Nails. So If You Loved Your Robots As A Child, Or Even Enjoy Pulling Out The Dance Move While Having A Few Drinks, This Is The Game For You!

A 5-Reel Slot Game With 25 Paylines Shows That There Are Many Chances For Players To Win At Any Given Moment. The Player Can Collect A Payout From The Game If At Least Three Of The Same Symbols Are Lined Up In One Of Those.
There Is A Good Chance Of That Happening Since 15 Icons Appear On Every Spin!
In Order To Give Themselves The Best Chance Of Winning, Players Should Include All 25 Lines In Their Stake. Players Have This Option And Must Include All 25 Lines In Their Stake. In Other Words, Three Icons Might Appear On A Payline, But Because You Didn't Include All The Lines, It Doesn't Count As A Win For The Player. Don't Say You Weren't Warned!

Graphics That Take Players Back To A Happier Time
Tin Town Slot Game's Graphics Won't Win Any Awards, But We Mean That In The Nicest Way. In A Game About A Robot, The Graphics Shouldn't Be Sensational. Robots Are Raw And Innocent, With Everything Needing A Practicality To It. This Metaphor Is Perfect For This Game.

Like Robots, Tin Towns Aren't The Most Appealing Things To Look At, But They're Practical With A Purpose - That's What This Game Is About.
It's No Doubt Going To Improve The Players' Mood As They Log On When The Game's Background Is A Clear Sky - Especially If It's Poor Weather Where They Are. In The Foreground, There Is A City Made Of Robot Pieces. Everything Has A Point To It And Nothing Flows Like Architecture Does.

As For The Reels, The Background Is Similar To A Rivet Used To Join Two Pieces Of Iron. It Works, And The Design Of Tin Town Is Always Going To Be Different To Other Slot Games. Eyecon Have Taken Players To A Different World, And It's A World Casino Players Are Sure To Embrace.

Free-Spins And Multipliers Up For Grabs
Tin Town Slot Game's All-Important Symbol Is The Dancebot. Besides The Scatter Icon, This Is The Most Valuable Item To Fall Down One Of The Five Reels. Two Of These In A Line Will Win Players 10 Coins, But If Competitors Line Up Five Of These In One Of The 25 Paylines - They'll Pocket 9,500! Now That's A Big Win!
It Doesn't Stop There, If One Of These Appear In Another Winning Line. Imagine Five Springs Ending Up In The Same Line, If A Dancebot Was On The Screen, The Winnings Would Increase From 100 To 200 Coins. Players Love Them, And It's Easy To See Why!

In Addition, The Dogbot Will Trigger 15 Free Plays Whenever Three Of Them Appear Anywhere In The Reels At The Same Time. All The Prizes Are Doubled During These Free Plays. So Not Only Does It Cost The Player Nothing To Stake, But It Also Could Lead To Even Bigger Wins. We All Love Our Dogs, But The Dogbot Might Just Be The Greatest Thing In This Tin Town!
*All values (Bet Levels, Maximum Win, etc.) mentioned in relation to this slot game are subject to change at any time