The Rat Pack
Fortune Games® Slots Review of
The Rat Pack

 

Slot Game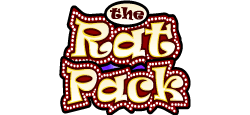 The Rat Pack Slots
There aren't many slot machines out there that feature rats, and that's probably for a good reason. The Microgaming slot machine will appeal to anyone with a sense of humour and a love for 1960s razzmatazz.
You're about to meet some very swish ratty characters, all based on the original Rat Pack from the 60s with Frank Sinatra, Sammy Davis Jr, and Dean Martin. In addition to the cartoonish graphics, there is also some lovely lounge jazz and swing to add a little bit of glitz and glam to the action.
The 5-reel, 30-payline slot machine offers players the possibility of winning 30,000 credits. In other words, if you're lucky enough to win the jackpot, you will be able to add a little glitz and glam to your life.
It's so easy that even a rodent could play it
It is easy to understand how to play The Rat Pack, as it is with many Microgaming slots. This 5x4 slot machine may have a daunting number of paylines, but the game's help pages explain all of them in detail. Additionally, you can find out how much each symbol is worth by clicking on them as they appear on the
For you to change the size of the stake that you place down, you simply need to toggle three things. Choosing the number of paylines you want to play is the first step. By clicking the (-) and (+) buttons beneath the "Lines" option, you can decrease or increase the number. The next step is to select the number of coins you want to place on each active line. You can change this by toggling the controls under "Coins". By fiddling with the buttons next to the purple coin emblem in the bottom left corner of the game screen, you can select the size of coins that you want to bet with.
That's all there is to it. Play around with these controls until you find the total bet amount that works best for you. In this game, you can stake from as little as 0.01 per spin to as much as 75.00 per spin, making it suitable for bettors of all levels.
The cymbal symbol should be beaten
In addition to ratty characters, the Rat Pack has a number of special symbols. In this slot machine, the scatter symbol is the image of a cymbal. Having three or more of these icons on the reels is very profitable indeed. Due to the fact that it will pay out regardless of whether it is on a pay line or not, and it will also trigger a round of bonus free spins.
There is a little bit of a difference between this bonus round and most other free spin games. As a result, only the scattering cymbal counts towards boosting your cash during the free spins. During each consecutive free spin, the cymbals that appeared on the reels to activate the free spins will be nudged down one reel position. Unless another cymbal appears and is held, the reels without cymbals will spin normally.
The cymbals keep bashing and thrashing until none remain. When they are all gone, the free spins will end, and you will most likely walk away with a tidy sum of cash!
Double the fun with double the wilds
There are also two wild symbols in this game. The first wild symbol will double your win when it substitutes for all other symbols except the scattering cymbal. It is also the most valuable wild symbol in the game, offering up to 5000 for 5 on a pay line. Besides the 2x wild and scattering cymbal, this symbol completes any winning combination for all normal game symbols.
Take a chance to boost your bounty
You can always take a risk with the slot machine's gamble game if you're not satisfied with your wins. In EuroMania Casino, you have to guess the colour or suit of a turned over card. By guessing the right colour, you will double your winnings. You can quadruple your winnings if you guess the right suit. Have you got the nerve to take the game to a whole new level?
When you play this slot, you'll never be happier to see a rat...
Despite its rodent characters, this slot machine certainly offers up quite a unique novelty theme that will surely appeal to many punters! With its silly graphics and captivating musical score, the game itself is enjoyable to play. A double-whammy of wild symbols keeps players on their toes, in addition to a number of bonus features. You're more likely to shriek in delight than fright when you play this fun-filled ratty game. Spread the word today by playing.
*All values (Bet Levels, Maximum Win, etc.) mentioned in relation to this slot game are subject to change at any time