The Pig Wizard JPK
Fortune Games® Slots Review of
The Pig Wizard JPK

 

Slot Game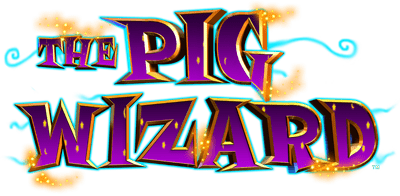 Aside from the obvious wizard theme, The Pig Wizard is an entertaining slot game with an interesting bonus feature. The game has 20 paylines, free spins, and a progressive jackpot that could be quite substantial if you're lucky enough to win it. Everything is presented in an easy-to-follow presentation.
With fixed paylines, you don't have to worry about deciding how many lines to play. To decide how much you want to bet, use the + and - symbols on the 'Total Bet' window. All 20 paylines will receive the same amount. To play, click the 'Spin' button at right (it looks like a cauldron).
THE PIG WIZARD SLOT - WILD AND BONUS SYMBOLS
In this game, the Pig Wizard himself acts as the Wild symbol. Except for the Pig Bonus symbol, he can substitute for all other symbols. A wild symbol can appear on any reel during both standard and bonus play, combining with other symbols to generate wins. Scatter symbols are used only to trigger bonus games.
THE PIG WIZARD SLOT - MAGICAL MAP BONUS
In The Pig Wizard, there is only one bonus game, but it offers three different options. To activate the feature, you must land three or more Bonus symbols on the reels 1, 3 and 5. Three room options will be presented to you:
The Squeal or No Squeal room presents 10 spell books with cash prizes. Choose a spell book to reveal your prize, then decide if you want to keep it or swap it out. Each bonus round allows you to swap up to five times.
In the Trail of Magic room, you roll the dice to travel around a board. Along the way, you will collect cash prizes and other awards. The bonus round ends when you land on the Green Potion symbol.
The Magic Mirror Free Spins room offers a traditional free spins bonus. As the round progresses, mystery mirror symbols will randomly change into matching symbols in order to create very valuable winning combinations.
THE PIG WIZARD SLOT - PROGRESSIVE JACKPOT
During the Magical Map bonus, you will have the chance to win the progressive jackpot at random. Depending on the number of players active in the game at any given time, you may be able to win a substantial jackpot.
As soon as a player wins the progressive jackpot, it is reset to its base value. When you have played for the jackpot, you will have the option of choosing one of the other three bonus rooms.
After the Jackpot King is won, the reserve pot will be used to restart the jackpot. Before the Jackpot King is won, 0.13% of every stake is used to fund this.
A seed fund initially funds the jackpot. Overall funding for this jackpot is made up of this initial seed and 0.86% of each stake made, with an additional 0.13% placed into the reserve pot for if the jackpot king is won.
*All values (Bet Levels, Maximum Win, etc.) mentioned in relation to this slot game are subject to change at any time