Diamond Sands
Fortune Games® Slots Review of
Diamond Sands

 

Slot Game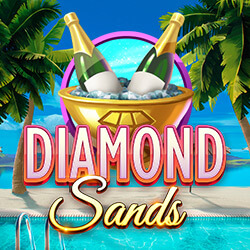 Understanding the Game Mechanics
The Basics
Diamond Sands is a 5-reel, 3-row video slot game with 25 paylines. The game is set against a backdrop of shimmering diamonds and precious stones, giving it a luxurious and opulent feel. The aim of the game is to land matching symbols on the paylines to secure wins, with the more valuable symbols offering higher payouts. The game also features a range of thrilling bonus features that can significantly boost your winnings.
The Paytable
Understanding the paytable is essential for any slot player, as it outlines the potential payouts for each symbol combination. In Diamond Sands, the paytable is divided into two categories: low-value symbols and high-value symbols. The low-value symbols are the classic card icons (9, 10, J, Q, K, and A), while the high-value symbols include various precious stones such as emeralds, rubies, sapphires, and diamonds. The diamond symbol is the most valuable, offering payouts of up to 750 coins for a five-of-a-kind combination.
Paylines and Ways to Win
With 25 fixed paylines, Diamond Sands offers numerous ways to win. Paylines are the specific patterns that symbols must follow to form winning combinations, and they typically run from left to right. In Diamond Sands, wins are awarded when at least three matching symbols land on a payline, starting from the first reel. The more symbols in the combination, the higher the payout.
Symbols and Special Features in Diamond Sands Slot Game
Wild and Scatter Symbols
Diamond Sands features both Wild and Scatter symbols, which can greatly enhance your gaming experience. The Wild symbol is represented by the sparkling diamond and can substitute for all other symbols (except the Scatter) to help create winning combinations. The Scatter symbol, on the other hand, is represented by a glittering diamond-encrusted safe. Landing three or more Scatters anywhere on the reels will trigger the game's Free Spins feature.
Free Spins Bonus Feature
The Free Spins feature in Diamond Sands is where the real excitement begins. Triggered by landing three or more Scatter symbols, this bonus round awards you with a set number of free spins, during which all your winnings are doubled. The number of free spins awarded depends on the number of Scatters you land:
3 Scatters: 10 free spins
4 Scatters: 15 free spins
5 Scatters: 20 free spins
During the Free Spins feature, you can also retrigger additional free spins by landing more Scatter symbols, giving you the potential for even more impressive wins.
Gamble Feature
For those who enjoy an extra element of risk, Diamond Sands also offers a Gamble feature. After any winning spin, you have the option to try and double your winnings by guessing the color of a hidden card (red or black). If you guess correctly, your winnings will be doubled, but if you guess wrong, you'll lose your winnings for that spin. You can choose to gamble your winnings up to five times, potentially multiplying your payouts significantly.
Betting Options and Payouts
Flexible Betting Options
One of the great aspects of Diamond Sands is its flexible betting options, making it suitable for players of all budgets. You can adjust the coin value and bet level to suit your preferences, with a minimum bet of $0.25 per spin and a maximum bet of $125 per spin. This wide betting range means that both high rollers and casual players can enjoy the game without feeling limited.
Impressive Payout Potential
With its numerous special features and valuable symbols, Diamond Sands offers impressive payout potential. The maximum win during the base game is 750 coins for a five-of-a-kind diamond combination, but this can be significantly increased during the Free Spins feature thanks to the 2x multiplier. Additionally, the Gamble feature offers the chance to double your winnings multiple times, giving you the opportunity to walk away with some truly dazzling payouts.
Strategies for Winning at Diamond Sands Slot Game
Manage Your Bankroll Wisely
As with any slot game, managing your bankroll effectively is crucial for long-term success. Set a budget for your gaming session and stick to it, adjusting your bet size accordingly. This will help to prevent you from chasing losses and ensure that you have a fun, enjoyable experience.
Take Advantage of Special Features
The special features in Diamond Sands, such as the Wild and Scatter symbols, can significantly boost your winnings. Keep an eye out for these symbols and try to make the most of them when they appear. Additionally, don't be afraid to take advantage of the Gamble feature (if you're comfortable with the risk involved) to potentially increase your payouts.
Practice with Free Play
Many online casinos offer free play options for Diamond Sands, allowing you to familiarize yourself with the game mechanics and special features without risking any real money. Take advantage of this opportunity to hone your skills and develop a strategy before playing for real money.
Playing Diamond Sands Slot Game on Mobile Devices
Seamless Mobile Experience
Diamond Sands is designed to be fully compatible with mobile devices, including smartphones and tablets running on iOS and Android operating systems. This means that you can enjoy the game's sparkling graphics, engaging gameplay, and exciting features from the palm of your hand, wherever you happen to be. The game is optimized for touchscreens, ensuring that the controls are easy to use and the experience is seamless across all devices.
No Download Required
To play Diamond Sands on your mobile device, you won't need to download any additional apps or software. Simply visit your preferred online casino through your mobile browser, sign in or create an account, and start spinning the reels. The game will load quickly and run smoothly, providing you with hours of entertainment on the go.
Comparing Diamond Sands to Other Popular Slot Games
While Diamond Sands is undoubtedly a standout game in the world of online slots, it's worth comparing it to other popular titles to see how it stacks up. In terms of theme and gameplay, Diamond Sands shares similarities with games such as Starburst, which also features dazzling gemstones and exciting special features. However, Diamond Sands offers a greater range of bonus features, including the Free Spins and Gamble options, setting it apart from its competition.
In terms of payout potential, Diamond Sands offers impressive maximum wins, particularly when the Free Spins and Gamble features are taken into account. While it may not have the same progressive jackpot potential as games like Mega Moolah or Mega Fortune, its consistent payouts and engaging gameplay make it an attractive choice for many players.
Tips and Tricks for Maximizing Your Gaming Experience
To get the most out of your time playing Diamond Sands, consider the following tips and tricks:
Familiarize yourself with the game mechanics and special features before playing for real money. This will help you to make informed decisions and maximize your chances of winning- Set a budget for your gaming session and stick to it. This will help you to manage your bankroll wisely and ensure that you don't overspend or chase losses.

Take advantage of any bonuses or promotions offered by the online casino, such as free spins or deposit matches. This can help you to maximize your winnings and extend your playing time.

Don't be afraid to experiment with different betting strategies, such as increasing or decreasing your bet size depending on the outcome of previous spins. However, always remember to gamble responsibly and never bet more than you can afford to lose.

Practice with free play options to hone your skills and develop a winning strategy. This can help you to feel more confident and comfortable when playing for real money.

Finally, remember to have fun and enjoy the experience! Diamond Sands is a thrilling and engaging game that can provide hours of entertainment and potentially massive payouts. So, sit back, relax, and let the sparkling world of Diamond Sands transport you to a world of glitz and glamour.
Conclusion: Why Diamond Sands Slot Game is Worth a Spin
In conclusion, Diamond Sands Slot Game is a shining example of the best that online slots have to offer. With its dazzling graphics, engaging gameplay, and exciting bonus features, this game is sure to capture the hearts of players of all levels. Whether you're a seasoned slot player or a newcomer to the world of online gaming, Diamond Sands offers something for everyone, including flexible betting options, impressive payouts, and a range of special features to keep you entertained.
So, why not give Diamond Sands a spin today and see for yourself why this game has become such a popular choice among slot enthusiasts? Whether you're playing on your desktop or mobile device, Diamond Sands is sure to provide you with a thrilling and rewarding gaming experience. Don't forget to choose a reputable online casino to play at, and always gamble responsibly. Happy spinning!
*All values (Bet Levels, Maximum Win, etc.) mentioned in relation to this slot game are subject to change at any time