Cobra Queen
Fortune Games® Slots Review of Cobra Queen Slot Game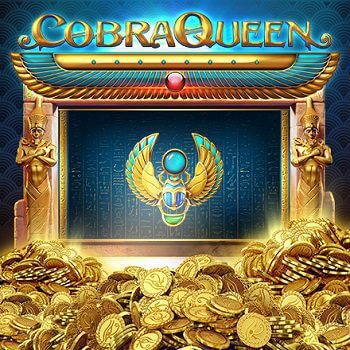 An introduction
There is no denying that Max Win Gaming slots are consistently solid, and Cobra Queen is no exception. If you've ever dreamed of exploring ancient Egypt in search of lost treasure, this could be the slot game for you.
It has the dreaded combination of below-average and high-volatility, but if the Ancient gods are on your side, the bonus features can help you boost your balance. You should be aware that the biggest wins are likely to be few and far between.
Here's a closer look at what's on offer in this desert landscape if you're willing to take on a slot with a rich narrative and seamless experience.
Soundtrack, graphics, and theme
With the reels spinning, players will be immersed in a sand-filled landscape filled with pyramids and palm trees, and the reels are set into a stone structure that is framed with two gold statues.
Ancient Egypt is represented in some way in each of the game's unique symbols, including the jewelled scarab beetle and golden ankh, which are both ancient Egyptian symbols. In addition to the standard symbols, the A. K. Q. J and 10 have been enhanced with an Egyptian theme, ensuring they blend seamlessly into the rest of the game. Animations are excellent as well. In spite of the static background, Cobra Queen offers one of the best in-game experiences we've seen in recent memory due to its attention to detail.
Furthermore, Cobra Queen's main soundtrack is both captivating and mysterious, inviting players to reveal ancient secrets and collect hidden riches. Supplementary sounds play when the reels lock into place, but they do not detract from the main soundtrack.
RTP and variance of the Cobra Queen
With a 95.01% return to player (RTP), Cobra Queen is a high-volatility online video slot game from Max Win Gaming.
Cobra Queen: How To Play
Players may find it useful to click on the three-line icon in the top right corner of the screen once the reels have loaded.
If you are satisfied with the game's rules, bonus features, and where the most important functions are located, you can set your stake using the toggle buttons in the bottom left corner.
Select your favourite spin mode by clicking the large circular spin button. You can also use the auto button to keep things moving in autoplay mode.
Sizes of bets and paytable wins
Here are some of the highest-value symbols on the paytable to give you some idea of the type of wins that you can expect when you play Cobra Queen.
-5 x Cleopatra = 1,000
-4 x Cleopatra = 250
-3 x Cleopatra = 50
-2 x Cleopatra = 5
-5 x Scarab Beetle = 400
-4 x Scarab Beetle = 100
-3 x Scarab Beetle = 30
-5 x Eye of Horus = 250
-4 x Eye of Horus = 80
-3 x Eye of Horus = 20
-5 x Ankh = 250
-4 x Ankh = 80
-3 x Ankh = 20
Wilds need to be locked
In addition to locking the win amount of every winning line in place, the last symbol of each winning line will become a Wild during the next spin if it forms part of a winning combination. Whenever the Wild symbol is included in a winning combination, the current value of the win will be added to the prize. When the Wild symbol is part of multiple winning combinations, the total value of all winning line values will be added to the prize.
Free Spins at Pharaoh's Tomb
There are five reels on this game, and if you land the Pharaoh symbol on the first, third, and fifth reels, the free spins bonus game will be activated. During the free spins, all Wilds will be locked throughout and their values can be stacked, which could boost the winnings of the luckiest players.
The Cobra Queen Review: Our Verdict
Despite having both a high volatility and below-average RTP, Cobra Queen is still likely to appeal to a wide range of online video slot players despite having both. If you're willing to take on a high-risk slot, the rich theme and solid selection of bonus features could deliver an immersive experience that you're looking for. Nevertheless, if the narrative is too strong for you to handle, or if the wins aren't falling, stop before the fun ends, and don't let the narrative consume you.
*All values (Bet Levels, Maximum Win, etc.) mentioned in relation to this slot game are subject to change at any time