Chronicles of Olympus X-UP
Fortune Games® Slots Review of Chronicles of Olympus X-UP Slot Game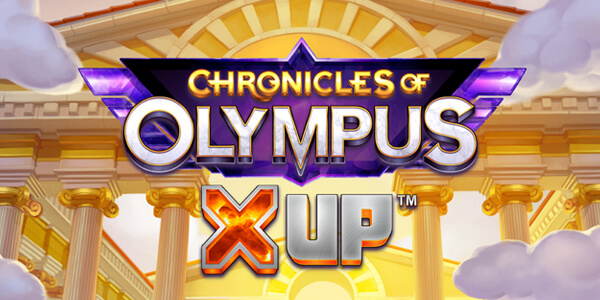 Review of the Chronicles of Olympus X UP
Alchemy Gaming's first release, Africa X Up, was probably one of the best Microgaming partners has ever produced, and we are pleased to see that they have attempted to outdo themselves with this Greek mythology sequel. As far as the name of Chronicles of Olympus X UP is concerned, perhaps it isn't the most original, but players who are familiar with the first game may be pleased to hear that both the features as well as the math model have been significantly improved.
It is now possible to earn up to a multiplier of x50 through the X UP token collection feature, and you can even pay for a multiplier that is even higher before the bonus round begins. Wilds are the most effective way of cracking the massive 50,000x multiplier if you land one when it does, and this is one of the best ways to get there. Even though you're still dealing with a variable RTP range and a high level of volatility, this is still a very enjoyable installment in what appears to be an exciting series from this budding developer.
Features of Chronicles of Olympus X UP
As far as symbol values are concerned, they aren't all that high in this game. However, this is understandable when you consider the massive multiplier that can be achieved. The 5 premium symbols, Zeus, Hera, Aphrodite, Poseidon, and Hades, pay in the region of 2.33 and 4 times your stake in this game.
The golden wild is the most valuable symbol, awarding 4.17x for 5 of a kind wins. However, it always expands to cover the entire reel when it lands, so it can appear on all five reels in the game. The wild is also used to replace all the regular pay symbols in order to make it possible for winning combinations to be formed.
On the left-hand side of the screen, you will see a Free Spins Multiplier Meter. If you land two scatter symbols anywhere in view, you will be awarded a token that can be collected. Initially, the multiplier will be set at 2x, and then it will go up to 3x, 4x, 5x, 7x, 10x, 25x, and 50x at the very top. During the bonus round, the multiplier will only become active if it is earned in the base game.
In the Bonus Round, you earn 8 free spins if you land three scatters of the same X UP symbol on a single spin. However, before the free spins can be activated, it is possible to increase the multiplier by paying a fee. It is called the Upsizer feature, and it is based on the multiplier that you brought with you when you started out. The cost of an upgrade is calculated individually based on the multiplier you brought with you.
The bonus round can still reward you with two extra free spins, as well as an upgrade of the multiplier, when you collect X UP scatters, which not only increase the multiplier, but also award you 2 extra free spins. If you have not already reached that level of multiplier, you can increase it up to 50x during the feature. Additionally, non-UK players can purchase the bonus round for 100x the stake, which will award 8 free spins along with a random multiplier of between x1 and x50 as a starting multiplier.
The 200 Spins Chronicles of Olympus X UP Experience
Having enjoyed the first version of this Alchemy Gaming series, we were certainly looking forward to seeing how it fared in the sequel. As usual, we've put together a brief but edited highlights video for you, and we invite you to see how we did by clicking the play button below to see how we did.
An overview of the review
In this sequel, Alchemy Gaming has done a lot of things right, and I'm glad that they've increased the multiplier range along with the potential significantly, as it's a relief that they've done so well. In Africa X UP, the multiplier of 25x and 30,000x wasn't bad at all, but doubling the multiplier without also increasing the potential isn't a good idea. But that isn't a problem, since 50,000x is more than enough to make this follow-up a highly attractive investment prospect for anyone.
Additionally, we really like the Upsizer feature, which allows you to pay extra for a higher multiplier to start you off in the bonus round. Expanded wilds will award you 1,013.31x, which is the highest multiplier you can get in the base game. It is essential that you have a multiplier multiplier of x50 in order to unlock the potential of a single free spin, and it certainly becomes quite tense as you climb the multiplier ladder. As a whole, Chronicles of Olympus X UP is a very worthy follow-up game to Chronicles of Olympus and it makes us wonder what we will see next.
*All values (Bet Levels, Maximum Win, etc.) mentioned in relation to this slot game are subject to change at any time