Buffalso Stack'n'Sync
Fortune Games® Slots Review of Buffalo Stack'n'Sync Slot Game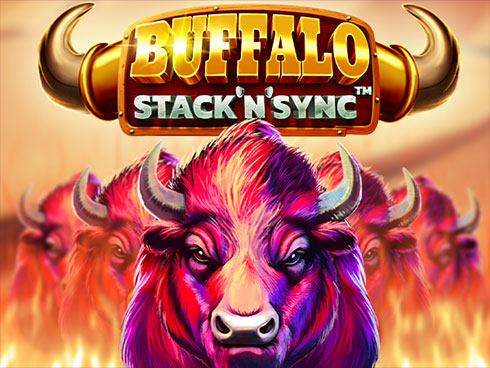 The introduction
When you play Buffalo Stack 'n' Sync from Hacksaw Gaming, you'll find yourself in an area where buffalo roam and deer and antelope play. Online slots are played on a five-reel, four-row game board with 10 paylines that are always active.
The reels of this game are loaded with bonus features, with four different ones available. Throughout this Buffalo Stack 'n' Sync slot review, we will examine all of the game's features, gameplay, graphics, and wins.
Soundtrack, graphics, and theme
Stack 'n Sync by Buffalo has a great overall look. Besides the well-designed graphics and colourful reels, wooden poles are lashed together to surround the reels. Smooth and sleek animations. As the reels spin, flames cover stacked reels.
It features a Western-style soundtrack with appropriately twangy electric guitar, reminiscent of an uptempo Ennio Morricone piece.
RTP Variance And Stack 'N' Sync From Buffalo
Buffalo Stack 'n' Sync's long-term average return to player is 96.36%, slightly higher than the average return to player for online slot games. It is usually around 96% on average.
There are some very high wins on the paytable because this title has a medium to high variance. There are very few times when players can get big wins, so they shouldn't depend on them.
Buffalo Stack 'N' Sync
You may find it difficult to understand the controls of an unfamiliar game like Buffalo Stack 'n' Sync online slot. With this quick-start guide, you can get started using this title.
A three-line menu with the paytable can be found at the bottom left corner of the screen.
In the bottom right corner, you can adjust your bet using the buttons. These buttons are surrounded by a display showing the number of levels of bet per spin.
The reels will spin once you click the spin button to the right of the bet icons.
Purchase bonus features by clicking the 'buy bonus' icon in the lower left corner. It is possible that you will not recoup all the funds spent on a feature when it is operational.
You can repeat spinning by clicking the auto spin icon to the right of the spin icon. A total of 1,000 spins can be made without interacting. You can set a limit on how much you can win or lose with advanced controls.
It is important to play Buffalo Stack 'n' Sync responsibly by only using money that you can afford to lose. Don't keep going when the fun stops.
Paytable Wins And Bet Sizes
With Buffalo Stack 'n' Sync, you can bet as little as 0.10 per spin and as much as 100.00 per spin.
When you land five buffalo or cactus symbols on a payline, you'll win 20x your total stake.
You can win 15x your total bet when you land 5 eagle symbols on a payline.
You can win 12x your total bet if you land five wolf symbols on a payline.
You can win 10x your total bet if you land 5 cougar or horse symbols on a payline.
5 playing card symbols on a payline will return between 4x and 2x your stake.
Bonus features of Buffalo Stack 'N' Sync
To sync stacked symbols across all reels, land Stack 'n' Sync icons on them. Fill the reel with 60 symbols to win big. You can fill the reels with free respins when you land Stack 'n' Sync icons.
If you land three or more stampede icons anywhere on the reels, you will receive free spins. You are more likely to land Stack 'n' Sync symbols during free spins; similarly, higher-paying symbols are more likely to stack.
There are only buffalo symbols and non-paying skulls on the reels during Stampede Spins. Whenever a stack symbol lands, you get an additional free spin. Stampeded Spins also offer big payouts.
In order to launch Stampede Reels, you must land a full reel of buffaloes. A multiplier of up to 100x is available on Stampede reels.
All features are available for purchase, with prices based on your current bet level. Paid features do not guarantee that you will win the amount you paid for them.
Review of Buffalo Stack 'N' Sync
Stack 'n' Sync from Buffalo is a great game that looks great and plays well. This slot has some potentially lucrative features, with Stack 'n' Sync icons appearing more frequently than other features.
*All values (Bet Levels, Maximum Win, etc.) mentioned in relation to this slot game are subject to change at any time