Book of 1001 Nights
Fortune Games® Slots Review of Book of 1001 Nights Slot Game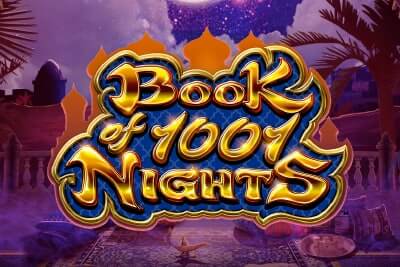 An introduction
You probably know at least some of the tales in the classic collection of folklore known as 1001 nights, such as Aladdin, even if you aren't familiar with all 1001. Leander's Book of 1001 Nights isn't about individual stories, but about Scheherazade herself, the woman who told them, all within five reels and ten paylines. Featuring some thrilling free spins, it's a beautiful slot.
Soundtrack, graphics, and theme
A journey into one of the most famous and enchanting stories of Middle Eastern folklore awaits you in the Book of 1001 Nights. One king was so afraid of his wife being unfaithful that he married a new woman every day and beheaded her the next day so she would never leave. Scheherazade, his newest bride, had no intention of being killed. He had to hear the end of her story because it was so captivating. There is just one problem: she left the story on a cliffhanger. For 1001 nights, she told him about famous heroes such as Aladdin and Ali Baba, and he had to stay with her until the next evening in order to hear the next part. His love for her had grown too strong by then for him to kill her.
There have been other slots based on this story, including 10001 Nights from Red Tiger Gaming. From the billowy gauze curtains in the royal bedchamber to the beauty of Scheherazade herself, everything you might imagine when reading 1001 Nights is present in the book. Colourful lanterns and the bright face of the full moon illuminate this enchanting world. Background music plays an intriguing melody with a Middle Eastern feel. In this slot, you'll be just as captivated as the king by the ancient tale's atmosphere.
RTP and variance for Book Of 1001 Nights
Trying out our free slots first before you wager real money is a great way to get a sense of what the game is like. If you don't have a lucky day, it doesn't matter so much. Additionally, it mitigates the risk of playing a slot like Book of 1001 Nights, which has a slightly disappointing RTP of 95.1%, lower than most modern games, but also has a high variance, suggesting that wins will be less frequent (despite being higher). It is important to keep in mind that any slot can be unpredictable when you actually hit spin, so don't take anything for granted.
The Book Of 1001 Nights: How To Play
Is it possible to create a story as enthralling as Scheherazade's?
The menu button can be found at the top left of the page. On the settings page, you'll find separate toggles for sound, music, and turbo spin.
The info button will take you to a page that displays the paytable, paylines, and features.
For anything else you need to know, there's a general game rules page.
Look at the bottom left of the main screen. When you click the stack of coins, you will be taken to the bet page, where you can choose from each of the available wager amounts.
You should decide how much you are willing to risk based on the total balance displayed at the bottom of the screen, among other factors.
Unlike most slots, there is no autoplay feature, so you will have to play one spin at a time. That does make maintaining control easier. As usual, the largest button on the screen is the spin button.
Play responsibly at all times. Stop when the fun stops.
Paytable Wins & Bet Sizes
The betting page gives you a range of 0.10 to 50.00 for your wager when you open it.
Paytables provide information on possible payouts. Multiply paytable values by the total bet, then divide by the paylines to calculate the value of 3, 4, or 5 matching symbols. This is what it looks like for 5 matches:
-10, J, Q - 100
-K, A - 150
-Pipe, Scimitar - 750
-Scarab - 2000
-Scheherazade - 5000
Besides triggering bonuses and acting as a wild, the scatter book has a maximum value of 200.
Bonus Features Of The Book Of 1001 Nights
A free games round is the main bonus feature in Book of 1001 Nights. When three or more bonus symbols appear, you'll be awarded 10 free games. It seems simple enough, but you'll also find some expanding symbols that fill extra space on the reels and increase your chances of lining up.
Review of The Book Of 1001 Nights
Now Scheherazade enchants you with the captivating Book of 1001 Nights slot. There is a lot of style and atmosphere in this slot, which is enhanced by the possibility of free spins and expanding symbols. Even though the RTP is low, this game still has a lot to offer. Try some other Leander free slots online if you like it? Themes and RTP figures are different, but the features are similar.
*All values (Bet Levels, Maximum Win, etc.) mentioned in relation to this slot game are subject to change at any time