Blackbeard's Quest
Fortune Games® Slots Review of Blackbeard's Quest Slot Game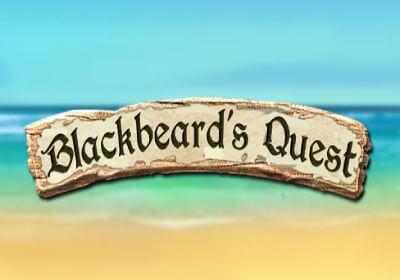 Slots Blackbeard's Quest
A well-known figure in history, Blackbeard's pirating was notorious for its level of fear it generated in all who crossed his path. There is still a lot we don't know about the man, but fiction doesn't waste time filling in the gaps to tell us whatever we want to know. Often Blackbeard is misunderstood, and other times he is even more ruthless than the history books have described.
There is nothing scary about Blackbeard in Blackbeard's Quest; he just has a task for you: find the treasure, and you'll be on your way. Your quest soon becomes one filled with perils when you consider that the 5-reels on which you play are infested with variance and volatility.
Despite already warming to you, most of the crew hold back, knowing that at any moment you could be thrown overboard... or worse. Only the red-headed lass, the only female on board, ever seems to come close to you and make her connection to you known.
In search of loot
These treasure chests operate differently than the other symbols in these waters - they only match three, no more or less, and each one looks very different. You can't make a match of all the same and trigger the free rounds, nor can you wait for them to appear on any of the reels since they're limited to the first, third, and fifth.
Matching three symbols starts the 10 rounds, but matching three more gives you extra, and as for what these symbols do during the spins, they act as wilds and Blackbeards. Therefore, they can also remove symbols, which means you have a better chance of winning.
According to the captain's most wanted poster, he has between 10 and 5,000 coins attached to it, so if he keeps showing up you'll end up with a lot of loot. It's true that you'll have to be very lucky to win that many times, but it has happened in the past; even though it's the maximum payout, you can win it more than once.
Taking the reins
There is no doubt that everyone believes you know what you're doing, so they've given you the chance to take the helm and steer them to glory - now would not be the right time to run into the authorities. Taking them to money is one thing, but taking them to the rocks with a dash of revenge is another.
When you get five of the symbols in a row, the ship will be kind to you, giving you as many as 500 coins. At the top end, if you don't exactly behave well but don't mutiny, you'll get a smaller payout of 250 credits, although the symbol shows the shop navigating the shores of an island.
You can then pass the time by playing a game of cards. Once you've won some money from the rest of the crew, they will ask you to pick the outcome of the next card. Since you have two choices, the game is a double or nothing, since you have a 50% chance of winning either way.
It's time to wax the deck
To set your total wager, use the plus and minus widgets on either side of the Bet line display. Players can begin at 0.05 and increase in increments until they reach 2 credits. The amount placed on the paylines will result in a wager of 18, but that can be decreased, as can the winlines themselves.
*All values (Bet Levels, Maximum Win, etc.) mentioned in relation to this slot game are subject to change at any time