Big Game Spin 16
Fortune Games® Slots Review of Big Game Spin 16 Slot Game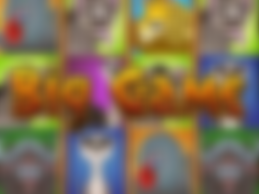 Slot machine Big Game Spin 16
A number of slot game themes have become commonplace in the industry as of late, including Africa. For whatever reason, slot game developers around the world have been inspired by the open plains of the Serengeti.
In terms of games that have utilized the African theme most effectively, Mega Moolah is an obvious choice. It is important to note that this title by no means stands alone, as several other African-themed titles have been making waves recently.
In Big Game Spin 16, Big Game is a much-loved online slots release that has been taken to a whole new level. In the past, Saucify's Spin16 gameplay has certainly impressed us, so we were happy to hear they were giving it another whirl.
When you reuse an online slots game to introduce new gaming technology, players will either groan or applaud. In the case of Big Game Spin16, it is more likely the latter, which will be discussed in greater detail in the following review.
There are animals and action galore in this movie
It doesn't take a rocket scientist to figure out what the theme is of this game,"Big Game Spin16". It immerses players in the African plains, with a green and brown backdrop littered with plants and grass.
Compared to what's on the reels, the background of the game is more or less a bit part aspect. A number of adorable and cuddly animals can put a smile on a player's face, including lions, hyenas, zebras, meerkats, and baboons. Quite frankly, Big Game Spin16 doesn't take itself too seriously graphically.
Africa's Sweet Sound
As a part of the Spin16 gameplay mechanic, Saucify really picks up the slack on the audio front, which has become the true calling card of the developer. This presentation element is really neglected in most games, but Big Game Spin16 does not fall into this trap.
Throughout the game, you will hear a song inspired by African culture. There are some additional clinking sounds when spinning the reels that help you differentiate in-game actions.
In all directions, whip the reels
Despite the fact that Spin16's gameplay setup may very well represent the future of online slots, the gameplay is what likely sells Big Game Spin16 to the masses. With this feature, players can spin the reels not just vertically, but horizontally as well, which opens up a whole new world of winning opportunities. As a result, the payline setup of the game is also altered, making it much more exciting.
It is safe to say that Big Game Spin16 delivers big-time fun, as the reels are constantly churning out something new and exciting.
Replay value is high thanks to wilds, scatters, and multipliers
As with other Saucify games, Big Game Spin16 includes a number of bonus features. It should be noted that this does not include any bonus games. The scatter symbol triggers free spins for players, which have a multiplier attached.
Also included are the usual wild symbols, which help you find a winning combination more easily.
While Big Game Spin16 cannot be described as a bonus bonanza, it does provide plenty of replay value.
Big Game spin16: On the hunt for cash!
There is no denying the facts; online slot games had to change if they were to compete with the rest of the online casino industry. New technology is driving this change, with Big Game Spin16 and the Spin16 technology it uses leading the way.
Although it isn't perfect just yet, as there are some kinks to iron out, it's clear that this game has "something". Anyone looking for a fresh slots experience should definitely try Big Game Spin16, which allows reels to spin in all directions.
*All values (Bet Levels, Maximum Win, etc.) mentioned in relation to this slot game are subject to change at any time