Bee Hive Bonanza
Fortune Games® Slots Review of Bee Hive Bonanza Slot Game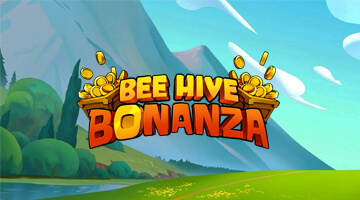 A review of Bee Hive Bonanza
Despite the fact that NetEnt has released a few Bee-themed releases in the past, Bee Hive Bonanza takes you into a Bee Kingdom of sorts, where the bees are walking around collecting gold coins as they go about their daily activities. This 5x5 scatter pays grid is located in the middle of a green and idyllic valley, and the base game is all about collecting bee prizes using the three different beehive collector symbols that are scattered throughout the game.
Several of them come with modifiers that boost your payouts, and you can even combine all three collectors to win solid payouts up to 5,000x your stake. In the bonus round, scatters increase the overall win multiplier, which is even more likely to happen. While Bee Hive Bonanza is highly entertaining, it is also nothing extraordinary.
Features of Bee Hive Bonanza slot
The scatter pay system requires at least 6 matching symbols anywhere in view to win, and winning symbols trigger the Avalanche mechanic. Bee symbols activated in the Money Bee feature are also removed, as well as scatter symbols in the bonus round. New and/or existing symbols drop down from above to fill the gaps, and this repeats as long as you keep winning.
It is important to note that the bee symbols appear at all stages of the game, and they will award you with cash prizes of 1, 2, 5 or 10 times your stake. It is necessary to collect a beehive symbol in order to be eligible for the bee prizes, and this award is an instant win. I would like to give you a brief overview of the three different types of collector symbols for beehives:
-Regular Beehive - This gathers all the bee cash prizes present per beehive symbol.
-Multiplier Beehive - This will boost all bee symbols by x2 before they are gathered.
-Adder Beehive - The bee prizes are increased by your bet value before being gathered.
If you land several different Beehive Collector symbols at the same time, the Multiplier Beehive modifier is applied first.
During the Bonus Round, you must have 3, 4 or 5 scatter symbols visible in order to trigger it, and this will award you 10, 15 or 20 free spins, respectively. As you collect scatters during the bonus round, you will be able to upgrade your win multiplier, and that is how you get to upgrade it. It is possible to earn a multiplier of x2, x3, x4 or x5 when you collect 3, 6, 9 and 12 scatter symbols. There is also an option for non-UK players to buy the feature for 100x the stake if they wish.
A 200-spin slot experience with Bee Hive Bonanza
The Bee Hive Bonanza test went well, and we have created a brief highlights video for your viewing pleasure. You can see all the best moments from our 200 spin test below. You can start playing right away by clicking the play button.
Summary of the review
Since being acquired by Evolution, NetEnt's slot release tempo has slowed significantly, and they are no longer as daring or avant garde as they once were. Though Bee Hive Bonanza isn't without its charms, its gameplay makes it a lot of fun. It breaks up the win ways patterns in our brains as it breaks up the pay anywhere system.
Despite similar things having surely been seen before, the bee symbol collect system comes with a decent twist in the form of collector modifiers. Collecting scatters to increase the multiplier is both fun and potentially lucrative to the tune of 5,000x your stake with the idyllic scenery. Despite its far from revolutionary nature, Bee Hive Bonanza is well worth checking out.
*All values (Bet Levels, Maximum Win, etc.) mentioned in relation to this slot game are subject to change at any time