Bass Boss
Fortune Games® Slots Review of Bass Boss Slot Game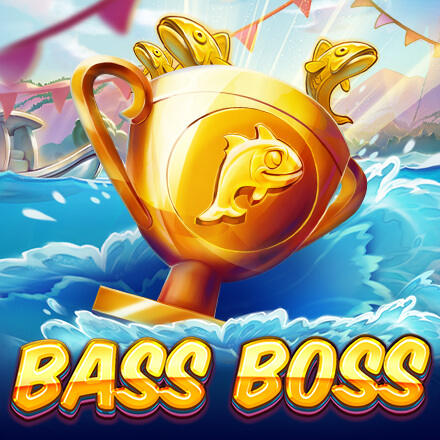 Review of the Bass Boss
In conclusion, we have yet another installment in the ultra-popular fishing slot genre, where something like a realistic depiction of fishing has been included. It is likely that the fisherman is sitting in his boat above the subsea grid, and at random times, he will drop his hook down to see if he will be successful. There is something refreshing and relaxing about it, and you get idyllic and colorful cartoonish visuals accompanied by a catchy western-style tune that will make you want to watch it again and again.
It is safe to say that Red Tiger has done an excellent job of capturing the cozy atmosphere most fishing slots are aiming for, and fans of the genre will not be disappointed with this game. It is possible to achieve solid payouts also in the base game by benefiting from a random cash fish multiplier up to x10. The multiplier you achieve is persistent in the bonus round as well. A 4,835x potential means that bigger catches are possible, which makes this one of the most capable and competitive fishing slot games ever released.
The features of the Bass Boss slot are as follows:
In this game, five of a kind wins will pay between 10 and 30 times your stake for the premium symbols, and there are no wild symbols in this game at all. As this game is primarily about the fish symbol collection feature, don't expect to get regular line wins all that often, as this game is primarily about regular line wins. There are four different types of fish symbols that can appear in this game, and they can appear anywhere on the screen:
-The Grey fish pays 2x or 5x your stake.
-The Blue fish pays 10x or 15x your stake.
-The Green fish pays 30x or 50x your stake.
-The Orange fish pays 100x or 200x your stake.
Occasionally in the base game, the fisherman drops his hook down so that it is on the same level as one of the four rows of fish. In the event that there are cash fish present on the same row as the hook, then these are collected and the total prize they carry is awarded to you.
There is no collection if there are no fish, or if they appear on other rows as well. In some cases, however, a nudge feature will kick in at random times, which can allow you to catch an additional fish from a different row at a time. It is also possible to attach a multiplier of x2, x3, x5 or x10 to the float above the hook in the base game, boosting any fish prize you come across.
In the Contest Spins Bonus Round, if three, four, or five scatters appear together, then you'll be awarded 10, 15 or 20 free spins, depending on how many scatters you land on the reels. As part of the contest spins round, the fisherman is always angling, and he is moving the hook to a random row position on each free spin that he makes.
Across reels 2 to 5, there is a trophy that represents a progress bar, and this is located above reels 2 to 5. Upon catching 8 cash fish, you will be able to move up to the next tier, and for each level you gain, you will receive +10 extra spins. As you progress through levels, you are rewarded with a persistent multiplier of x2, x3, x5 and x10 at the top-level, which increases as you move up the levels.
200 Spins on Bass Boss Slot
In the base game, the fisherman had all but given up when we finally triggered the bonus round at 1:20 into the 3:39-minute highlights video. Simply click the play button below to get started and see for yourself if our luck changed during the feature.
Summary of the review
In spite of the fact that there are plenty of fishing slots out there, there are relatively few where the fisherman actually casts off to reel in cash prizes. There is no doubt that Red Tiger has managed to recreate the cozy Fishin' Frenzy vibe with a more modernized cartoonish look, and catching cash fish has never been more fun and frustrating at the same time than it is in this game. There are times when you just want to yell at the fisherman to nudge his darn hook while then there are other times when he is reeling in a big catch for you to enjoy.
Our experience has shown that regular line wins can go as high as 300x your stake for a full screen, however they rarely amounted to anything in our experience. In other words, the fish catching takes center stage in all stages of the process, and we are not bothered at all by it at all. In the bonus round, you can have a lot of fun when things go your way, but it can be frustrating if you are not able to level up as quickly as you would like. We do not think that Bass Boss will become the top boss because it has a 4,835x potential, which is higher than many popular competitors in the fishing slot genre.
*All values (Bet Levels, Maximum Win, etc.) mentioned in relation to this slot game are subject to change at any time