AOTG Athena vs Ares
Fortune Games® Slots Review of
AOTG Athena vs Ares

 

Slot Game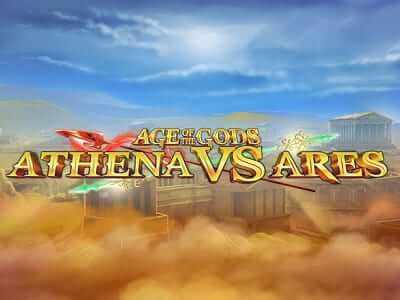 A brief description
With the release of this new installment of the award-winning Age of the Gods series, the gods are taking to the arena once more. In an epic showdown of divine strength and battle prowess, Athena, the Goddess of Wisdom, takes on a worthy adversary in Ares, the God of War, in an epic showdown of godly strength and battle prowess. This slot game features interesting features such as Exploding Reels so you'll have the opportunity to choose your allegiance and enter the arena for a chance at winnings and glory.
As soon as three Athena vs Ares symbols appear anywhere on reels 1, 3 and 5, you will be triggered to the Athena vs Ares bonus game. This will be the beginning of the battle of ages. Select your champion, decide which shield they will carry, and what magic boost they will have and send them into the arena where you will be able to confront armies and Gods alike. Depending on how much glory you collect in battle, the higher the multiplier you'll see applied to your stake in relation to the amount you stake.
Have you got what it takes to win epic victories as well as stand up to the wrath of the Gods?
The rules of the game
These features include:
Bonus Game - Athena vs Ares
The "Athena vs Ares" Bonus Game is triggered when three Athena vs Ares symbols appear on reels 1,3 and 5 at the same time on any line. As soon as the bonus round is triggered, players will be taken to a selection screen, where they will be able to choose which champion they would like, which shield they would like to use and which magical blast they would like to use.
It will be necessary for players to compete against three different opponents in the battle arena: Army One, Army Two, and the opposing God or Goddess. It can be concluded that the larger the multiplier applied to the total stake, the higher the chances of winning the game.
The Age of the Gods Athena vs Ares slot from Playtech Bingo lets you take a trip back in time to the days of warring Gods and fantastic feats, taking you back to the days when they were warring Gods. Is the Goddess of Wisdom going to be able to defeat the God of War in this divine game that has a Greek theme to it?
Symbols in AOTG Athena vs Ares
As I mentioned before, this is a wonderfully drawn story with all the characters conveying a sense of ancient battles between these gods who are sparring against each other in this particular story.
If you click on the image of Athena versus Ares, you will be able to access an exciting bonus game that can be accessed by clicking on the image.
When it comes to winnings, Athena is the most valuable symbol of all, since she is capable of giving you a holy win of 15,000 coins when she appears on an active payline, which is a truly great win.
When you have the mighty Ares appearing on your reels, you can win up to 7,500 coins in one go with a combination of those symbols appearing on your reels.
It is possible to stake as much as 200 times the value of a warrior's helmet in order to win.
It is possible for Athena's faithful owl to fly in and earn you 150 coins if you want to earn 150 coins.
In his capacity as Ares' dog of war, he has the ability to snarl his way to a 100 coin reward on your behalf on your behalf if you let him do so.
*All values (Bet Levels, Maximum Win, etc.) mentioned in relation to this slot game are subject to change at any time