Anaconda Wild 2
Fortune Games® Slots Review of
Anaconda Wild 2

 

Slot Game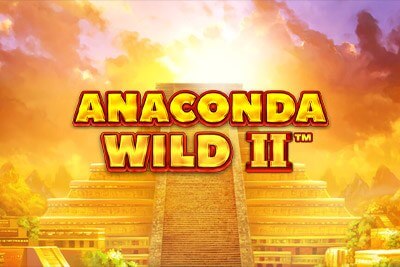 An introduction 
Would you like to embark on an adventure set in the time of the Mayans? Then we have the perfect game for you. With an interesting theme and excellent visuals, Anaconda Wild 2 is a great Playtech online slot. 
Enjoy ancient treasures as you immerse yourself in a long-ago civilisation, but watch out for the snakes. Despite its scary appearance, this anaconda can boost your winnings when it appears.
With 6 x 4 reels and 50 fixed paylines, there's plenty of room to showcase the impressive symbols. Spin those reels and feel like Indiana Jones with this slot machine.
Graphs & Soundtrack 
Anaconda Wild 2 starts with an eye-catching yellow background, dotted with trees, mountains, and Mayan temples, as well as a realistic river with animated plants. In addition to golden edging, the 6 x 4 grid has an attractive green background reminiscent of a pool table.
Look for a decorated round shield [special wild], the red and gold WILD symbol, a Mayan woman, a treasure chest, purple chalice, coin, green dagger, and ring with gemstone. In the lower paying symbols, there are blue spades and clubs, and pink hearts and diamonds.
With traditional panpipes and other instruments playing in the background, the soundtrack for this popular fun slot is perfect. While this can be heard, it is often drowned out by the constant clicks as the reels spin, and the irritating melodies that accompany wins. People who are sensitive to noise may want to familiarize themselves with the sound control button before playing this game.
RTP and Variance of Anaconda Wild 2
With a high variance level and a high return to player combination of 96.47%, this video slot is better suited for longer sessions rather than quick hits.
Anaconda Wild 2: How To Play
You need to pay attention to both sides of the reels and underneath them in order to set up and adjust this slot. You can use this handy guide to get started if you're having trouble getting started.
Start by checking the slot's paytable; simply click on the large I to the left of the reels to do so.
On the right side of the reels, you'll see the BET button. By clicking there, you'll see the control button in the center of the reels, where you can select the bet size.
With autospin, you can enjoy some hands-free play. An icon appears under the BET button and reveals a sliding scale. You just need to choose how many turns you want to set up; the choices are 5, 10, 20, 50, or 100.
At the bottom of the screen, you'll see information about your current win and total bet. This is also where the sound button can be found.
Paytable Wins & Bet Sizes 
An impressive range of bet sizes is available in Anaconda Wild 2, from 0.25 credits per spin to 375! There is no doubt that this slot will cater to all players, regardless of their spending habits.
Details of the paytable
Between three and six matches are paid for all symbols. Each offers a different range of products, which we compare here.
-The shield [special wild] pays between x1000 - x100
-The wild pays between x1000 - x50
-The Mayan woman pays between x600 - x40
-The treasure chest pays between x160 - x20
-The purple chalice & the coin pay between x120 - x14
-The green dagger and gemstone ring pay between x80 - x4
-The playing card suit symbols pay between x50 - x2
Bonus features in Anaconda Wild 2 
In this game, there is only one main bonus option, the WILD RESPINS, but it is quite complex.
Respins that are wild
'Special wild' symbols trigger this bonus game, and only one is needed. After the wild is locked down, our friend the anaconda will appear on the screen. As the snake moves around the grid, it turns symbols into wilds. A special wild can be triggered, extending the game's duration.
Upon returning to its starting point, the snake ends this feature, but the rewards don't stop there. An exciting prospect that could really boost your free fun credit balance is a multiplier bonus worth up to x25, along with a final respin to use it.
Review of Anaconda Wild 2 
While it's just as entertaining as a standard animal-themed slot, which tends to feature wild beasts with legs rather than slithering reptiles.
There is a great sense of engagement and fun in the atmosphere, and the images are excellent. The lack of additional bonus options does hold Anaconda Wild 2 back, but overall it's a nice game to play, and the snake adds an extra element of intrigue.
Check out Anaconda Wild free slot if you want to see what inspired this video slot. In addition to sharing many features with the mark 2 game, this original version also has a slightly lower RTP of 95.48% and a lower jackpot payout of x1000.
*All values (Bet Levels, Maximum Win, etc.) mentioned in relation to this slot game are subject to change at any time