Action Bank
Fortune Games® Slots Review of
Action Bank

 

Slot Game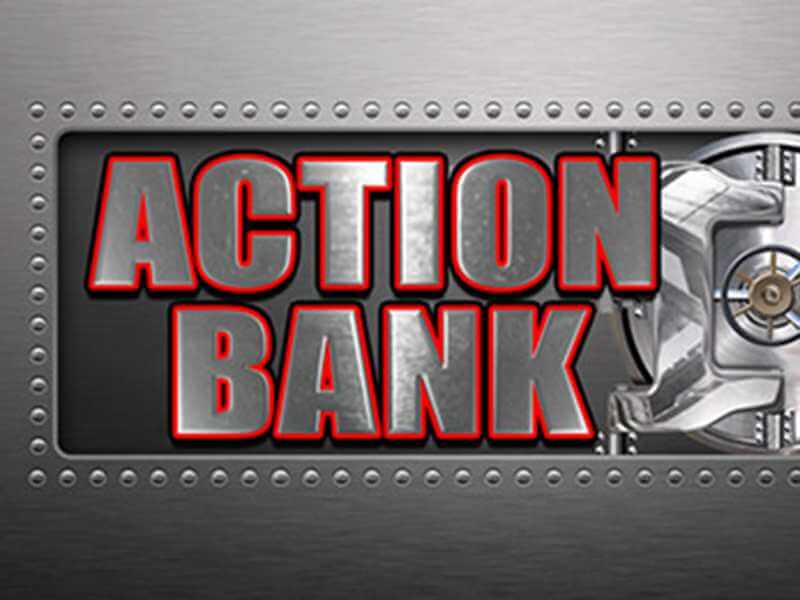 Slot Machine Called Action Bank

Several Slot Games Are Accused Of Delivering Style Over Substance, At Least In The Modern Age. This Accusation Can't Be Made At Action Bank, Which Is Possibly One Of The Simplest Slot Games Around, Yet In Its Own Way One Of The Most Enjoyable.
It's Fair To Say That, Visually, Action Bank Has Seen Better Days... But Don't Let That Put You Off Trying This Title.
With Five Reels And 20 Paylines, Plus A Variety Of Main Game Symbols, You Can Advance Your Wins To The Next Level With Scatters And Wilds.
You'll Find That Many Players Are Queuing Up For A Bit Of Bank Action With Action Bank, Considering The Top Prize Is 500x Your Total Bet.
Stations For Taking Action

Starting From The Left-Most Reel And Moving To The Right, Players Are Looking To Match Three Or More Symbols On An Active Payline. Your Prize Is Calculated By Multiplying Your Stake Amount By The Multiplier.
Action Bank Has Just Three Main Game Symbols; Perfect For Increasing Your Chances Of Winning By Reducing Traffic On Your Reels. For Matching Three, X10 For Matching Four, And X50 For Matching Five, The Cross Delivers Payouts Of X5 Of Your Bet.
Next Up Is The BAR Slot Game, Which Reward Players With X10, X20, And X100 For Spinning Three Through Five. The Lucky Number 7 Is Last But Not Least; And If You Return Three (X20), Four (X100) Or Five (X500), You Will Be Rich.
Aside From The Scatter, You'll Find Two More Symbols To Pay Attention To, With The Wild Symbol, Here It's The Joker, Substituting For All Other Symbols Except For The Scatter To Help You Create Additional Paying Lines.
Scatter Symbols Include The Bank Vault, Which Is A Scatter Symbol. Five Or More Of These Trigger The Big Bank Bonus, Which Is A Particularly Good One To Keep Around. In Addition To The Lucrative Ruby, Sapphire, And Diamond Multipliers, Players Will Receive 5 To 30 Free Spins To Do Some Damage.
Fun With Free Spins

Upon Triggering The Free Spins Game, You Will Be Asked To Choose One Of Five Vaults, Each Of Which Will Contain A Certain Amount Of Freebies. While Revealing 25 Free Spins Gives You The Opportunity To Trigger The Big Bank Bonus, You May Choose To Settle For What You Have Or Try To Gamble These To Win More.
Freebies Are Played At The Same Rate As Your Original Trigger Spin, Although Some Symbols Have Now Been 'Doubled Up', And Will Be Subject To An Additional X2 Multiplier.
Would You Like More Free Spins? No Problem: Just Spin Five More Of The Scatter Symbol During A Freebie And This Process Will Repeat Itself.
Bank Bonuses

This Is Where Action Bank's Big Money Is To Be Made. With A Jackpot Of 500x Up For Grabs, The Big Bank Bonus Is A Perfect Name As It Offers Plenty Of Potential For Decent Payouts.
In The Game, Players Are Presented With 15 Bank Vaults, Which Contain Some Glittering Prizes, Such As Four Diamonds, Five Rubies, And Six Sapphires. Upon Seeing These, You Will Notice That They Will Shift Positions Before You Pick Them. Pick Three Doors With The Same Multiplier, And Once You Have Achieved This, The Bonus Round Ends, And The Final Prize Is Calculated. Is It A No-Lose Bonus? Happy Days!
The Best Thing About Action Bank Is That It Has A Bonus Feature That The Player Can't Lose. You Can Accumulate Some Tidy Prizes With The Free Spins Bonus And You Have A Recipe For Great Slot Games.
*All values (Bet Levels, Maximum Win, etc.) mentioned in relation to this slot game are subject to change at any time