7s Deluxe Wild Fortune Play
Fortune Games® Slots Review of
7s Deluxe Wild Fortune Play

 

Slot Game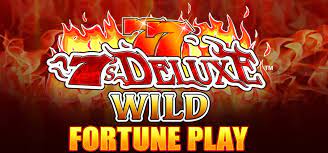 There are five paylines and three reels in 7s Deluxe Fortune Spins. Three rows are present on each reel. The white Play button can be seen on the right side of the screen. Before you use it, look on the left side of the screen for an option to modify it
What you need to know about 7s Deluxe Fortune Spins
This five-reel and three-payline slot game by 7s Deluxe Fortune Spins features a three-reel design. In the base game, there is a wild symbol. There is a function called "Fortune Spins" in the game. Fortune Spins has an RTP of 95.42%, whereas the standard game has 95.25%. The minimum and maximum bets are 0.10 and 10, respectively. You are betting on high volatility when you play 7s Deluxe Fortune Spins slot because it has a potential jackpot of 250,000 or 50,000 times your stake. Several additional features are available in this game, including free spins.
Even though the 7s Deluxe Fortune Spins online slot doesn't use a complicated matrix, it does have a large paytable with nine standard symbols. There are low-paying symbols on the list, including cherries, lemons, oranges, and plums. In addition to bells, bar icons, watermelons, stars, and lucky red sevens, there are five other symbols that can be found in the game.
The features of 7s Deluxe Fortune Spins
7s Deluxe Fortune Spins slot game includes Wild Symbols and Fortune Spins. When the Wild 7 symbol replaces the regular 7 sign, it can help build line winnings. The Wild 7 symbol cannot be substituted with any other symbol. On the other hand, fortune spins can be played at any time by pressing the fortune spins button. It is possible to bet 20 times your total bet. As well as the wild symbol being able to transfer to other reel sets, additional reel sets have been activated. All symbols during Fortune Spins can be replaced with the Wild 7 symbol. Each Fortune Spin ends with the option of changing your Fortune Bet or returning to the standard reels.
The visuals of previous 7's Deluxe games have been retained with Bells, Fruit and of course 7's, but the gameplay is fresh and exciting with a markedly different experience. With the addition of a fourth reel, Super Ways and Fortune Play, Blueprint has reinvigorated this iconic brand.
Older titles in the 7s Deluxe family have been replaced with Super Ways and 81 unique winning combinations, while Wilds can multiply wins by up to x8.
The Fortune Play slot offers a spin on an enhanced reel set, with wild symbols extending to subsequent reels for even more chances at big wins.
The 7's Deluxe Fortune Spins slot machine - how to play  
With 7's Deluxe Fortune Spins, you can play up to five paylines.
The wild symbol
There will be Wild symbols in this game, which will appear as Flaming 7 Wild symbols.
The Wild symbol can only substitute for the 7 symbol in 7's Deluxe Fortune Spins during the normal game.
Winnings at Fortune Spins
You can enable Fortune Spins to increase your performance.
At any time throughout the game, you can activate Fortune Spins by clicking the 'fortune spins' button.  
Playing Fortune Spins costs 20x your total bet.
With Fortune Spins, more reel sets will be activated (from three to four) and the Wild symbol will be able to move between reel sets.
During Fortune Spins, the Wild symbol also replaces all other symbols, not just the 7 symbol.
Should you wish, you can change your Fortune bet after each fortune spin. 
Click on the 'standard spins' button to stop playing Fortune Spins and return to the standard reels.  
7's Deluxe Fortune Spins RTP
The return to player is between 95.25 and 95.42 percent.
As a proportion of the wagering on the game, the expected return is what we pay out to players.
As an example, if we bet £100, on average we will pay out £95.25 to £95.42 in winnings.
*All values (Bet Levels, Maximum Win, etc.) mentioned in relation to this slot game are subject to change at any time