7 Piggies
Fortune Games® Slots Review of
7 Piggies

 

Slot Game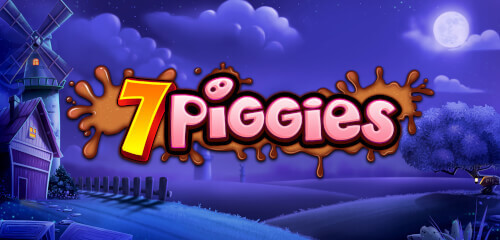 It's time to get started!

A cartoon-style porker community is introduced in 7 Piggies, where we learn about their down-on-the-farm lifestyle. In addition to stacking formations on the reels, the swine play some clever tricks to increase their payout potential. Because this game has a low-to-medium volatility level, it can accommodate some tasty morsels to boost your betting balance. One of its highlights is the bonus round of this highly rewarding online slot machine game. As an initial reward, players receive five free spins, but players can also add up to 10 additional free spins from the farm's barns, as well as multipliers that can multiply potential wins by five times. The game has only seven lines, but its features, bonuses, and unusual icons make it a rewarding game to play.
Any device can be used to play 7 Piggies

It is available on all devices - mobile and tablet, along with desktop and laptop, and compatible with Microsoft, Apple, and Linux operating systems. The game has a casual appearance and bets start at just seven (not again!) credits. It will appeal to those players who want some inexpensive fun; however, if you want to increase your gameplay, you can place the top bet of £35. For players with slow internet connections, all the company's games, including 7 Piggies, are available for download on a desktop.
The backdrop

It is this farm, which is home to little piggies - 7 Piggies, to be precise - which forms the backdrop to the game's reels. There are more fabulous pigs on the reels, each with their own personality. You'll see blue baby pigs with dummies in their snouts, teen pigs, vampire pigs, rockabilly ones, princess pigs, and even builder pigs. It's true that they built their houses! 150 coins are awarded if you land five builders!
Wild symbols include the 7 Piggies

Would you like to bring home the bacon? The game includes a number of special bonus features that you can activate if you do. It is the impressive golden-coloured king of the pigs, which is the wild symbol of the game, that gives you the most rewards. It replaces every other symbol except the big barn scatter, offering rewards of 50, 400, and 1,500 coins if you land three, four, or five on any of the game's paylines. The scatter symbol activates a number of free spins when three or more appear.
The fifth golden piggie can multiply your winnings by 1,500 times, making you filthy rich. As the number of builder pigs increases, the winnings decrease substantially, with five princesses resulting in only 50x.
Spins for free

There's a lot of fun to be had if you land three of the barn scatters! As a result, you will be able to trigger the all-important Free Spins feature. It has already been mentioned that you are initially given five free spins, but you can also add extra spins if you wish. Every barn on the farm offers either 3, 5, 8 or 10 free spins or a multiplier of 1x, 2x, 3x or even 5x. A maximum of 15 free spins or a multiplier of 6x can result.
There is still more to come! There is no limit to the number of times you can retrigger this feature if you land three or more scatters during a feature. If you are lucky, this could mean an unbelievable number of free spins with a 6x multiplier!
Advantages
The slapstick humor and catchy soundtrack of 7 Piggies make it a fun, light-hearted family movie. It may seem gentle on the outside, but once gameplay begins, it can be a fierce affair! Playing Farmyard Fun and winning decently makes it a favourite amongst some players.
In addition, it uses some simple and clean mechanics. Therefore, no matter how experienced or new players are, they will experience a streamlined experience.
Negatives

In some players' opinion, the theme is a little too cute and the extras are somewhat limited. In spite of the fact that there are more glamorous animals out there, we still think that pigs are adorable because they enjoy sloshing about in the mud regardless of their size or shape.
Read the small print

There are more than 80 slots in Pragmatic Play's portfolio, which is an impressive number in the gaming industry. To ensure that each player is completely immersed in the experience, all the company's games are built and designed. Additionally, the company offers bespoke services that create customised games as requested by individuals and organizations, incorporating any special themes. The company prides itself on its excellent customer service and speedy delivery.
Availabilities

All of its games are available in all major languages and currencies. Moreover, the company is able to add and deliver additional languages and currencies worldwide.
The administration

Its admin area is well suited to Pragmatic Play's collection of games. A simple area for configuring games, for example, is available here. In addition, the software provides up-to-the-minute statistics on player games, return to player, session history, bets, and wins. A number of bespoke reports can also be generated based on games, time, geography, and currency, for example.
Programming interfaces

Operators can integrate seamlessly with all of Pragmatic Play's games within a matter of days thanks to an easy-to-use application programming interface (API). Additionally, a support team is available 24 hours a day, 7 days a week to assist during and after the installation.
*All values (Bet Levels, Maximum Win, etc.) mentioned in relation to this slot game are subject to change at any time