5 Pots of Riches
Fortune Games® Slots Review of
5 Pots of Riches

 

Slot Game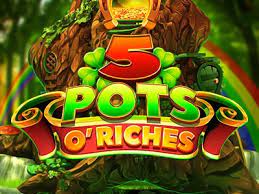 5 Pots o' Riches: Slot Overview
We're out of witty ways to launch into yet another leprechaun-themed slot of late, so please accept our apologies. Let's pile in and see what we can find. The game is called 5 Pots o' Riches and comes from Blueprint Gaming.
Due to the engorgement of the leprechaun slot category, Blueprint hasn't developed any new features. Instead, they've reused much of the gameplay from King of the West. Although the math model has changed, players still get the same features, such as a prize reel, random wilds, and free spins.
The 5 Pots o' Riches slot machine has five reels, three rows of regular symbols, and an extra row displaying special prizes. Its see-through design allows players to see what must be a leprechaun's house in the forest, as fireflies flitter and leaves fall. It's a charming image.
As a result of Blueprint's graphic team overlaying everything with a yellow, golden glow, it implies both pots of treasure and autumn's magic. Leprechaun fans should get excited about 5 Pots o' Riches because it's nice to look at.
With 5 Pots o' Riches, players can select regular bets of 20 cents to £/€100 per spin, then decide whether to activate the Leprechaun Bet. This increases the stake by 25% and increases the chance of landing leprechaun symbols.
Playing normally or using the Leprechaun Bet does not affect the theoretical return value of 5 Pots o' Riches, which is 95.5%.
On any of the 20 fixed paylines, players score a regular win when matching symbols land from left to right. When five symbols hit, players win 5x their bet when 10-A card rank symbols appear, or 10-50x when four-leaf clovers, beer mugs, harps, or green top hats appear. A wild Flag of Ireland can substitute for any other symbol and is worth the same as a top hat.
5 Pots o' Riches: Slot Features
This section will explain how players can access prizes on the top reel, how Emerald Wilds function, and how the free spins bonus round works.
Prize Reel
Regular reels spin vertically, while upper prize reels spin horizontally. At the end of the game, five special symbols appear aligned with the five main reels. If a leprechaappears on the main grid, it activates whatever is above it on the prize reel.
This could be:
Gold clovers - display a bet multiplier.
Gold pots - display a higher value bet multiplier.
Collect All - awards every prize on the reel.
Emerald Wild - a number of wild symbols are added to the reels in random positions.
Free Spins
Getting a leprechaun symbol and a bonus symbol on the same reel awards free spins. Before starting this bonus, players spin a wheel to win 10 to 30 free spins and a win multiplier of x2 to x5.
Cash prizes won from the prize reel are multiplied by the win multiplier awarded by the wheel during free spins. Leprechaun symbols are also more likely to appear during the bonus round. Furthermore, if a leprechaun lands on the prize reel, players can win extra spins.
5 Pots o' Riches: Slot Verdict
Leprechaun slot players will enjoy 5 Pots o' Riches. If Pragmatic Play hadn't released Rainbow Gold not long before 5 Pots o' Riches, a similar game, leprechaun players might have been even more excited.
Both slots make use of a top prize wheel displaying a variety of bonuses and modifiers, triggered when a leprechaun symbol lands beneath them. Blueprint did beat Pragmatic to the punch since 5 Pots o' Riches' mould slot, King of the West, preceded it by several months, but then again, is anyone really counting?
5 Pots o' Riches and King of the West differ in subtle ways. On each spin, the prize wheel moves one position to the left in King of the West, whereas in 5 Pots o' Riches, all five prizes are refreshed. When a solid prize symbol slowly progresses across the reels, the original game's method is extra tantalizing.
There was a greater number of high-value bandit symbols in King of the West than in 5 Pots o' Riches, as well. In its bonus round, the Western slot offered fewer free spins and was potentially a tougher nut to crack because it was more volatile. When it comes down to it, 5 Pots o' Riches is nothing new, despite the changes.
Being original probably isn't a major requirement if leprechaun slots are of interest to you. There is a greater emphasis on having a good time on the reels, and 5 Pots o' Riches certainly delivers. The scene is replete with plenty of natural Irish imagery that hints at magic without being overbearing.
The majority of cliches remain in 5 Pots o' Riches, so purists won't be left out if they choose this game over the many other leprechaun games available. If leprechauns aren't your thing, 5 Pots o' Riches will probably be as boring as all the others.
*All values (Bet Levels, Maximum Win, etc.) mentioned in relation to this slot game are subject to change at any time