Beat the Bobbies Jackpot
Fortune Games® Slots Review of Beat the Bobbies Jackpot Slot Game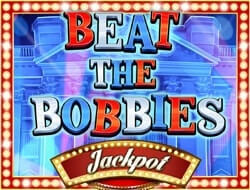 There is a jackpot slot machine called Bobbies Jackpot that you can try your luck at
You have to outrun the long arm of the law in this amusing five reel slot from Eyecon in which you have to escape the law in order to win the jackpot. There are 243 ways to win on this slot, as well as free spins, multipliers, and free spins, which will keep you entertained for a very long time. Join Penny and her cunning team as you set your sights on a daring raid on the crown jewels as you embark on a daring raid on the crown jewels with Penny and her cunning team. 
Beat The Bobbies Jackpot Game features the following features:
Penny is the smiling lady burglar who will award you with a total of 20 free spins when you play the game. She is the scatter symbol in this game, which has to appear on three different spots in order for the bonus round to be triggered in this game. It is at this point that you will be able to select from a selection of free spin options, and you will be able to enjoy your rich pickings when this happens.
In order to receive the best payout possible, it is advisable to wager five Pennies so that you will receive a payout of 50 times your wager, which is the best payout available. Other images that have a high payout include a large jewel, a crown and a lovely ring, which are some of the other images that have a high payout.
Penny is going to have a hard time escaping the Bobby. Will she be able to do so? In this slot machine, you will find a hardworking police officer patrolling the middle reels, and he is also the wild symbol that appears on the reels. In general, this means that if you wish, he can replace any image except Penny to round off a winning combination for you if you wish to do so.
What is the best way to beat the Bobbies Jackpot Slot Game and win the jackpot?
As far as planning this cartoon crime is concerned, there is no need to spend hours poring over maps and diagrams in order to achieve this. If you want to bet money on the game, you simply need to decide what amount you would like to wager, and then let the gang loose on the table.
Once you have earned a bunch of free spins, you will only be able to make one big decision after you have earned a bunch of them. Depending on what you think is most important to you, you can decide whether you would prefer a bigger multiplier or more games when you have decided which is more important.
It is estimated that the Return To Player (RTP) for Beat The Bobbies Jackpot Slot is 96%.
Are you confident that you will be able to get away safely after a raid with the spoils you stuffed into your loot bag after taking part in a raid? There is a return to player percentage of 90.2% in Beat the Bobbies Jackpot, as well as a jackpot of 3%.
If you succeed in pulling off this heist, there is a good chance that you will be tempted to go on a mining expedition on Betfair's Dynamite Digger Jackpot in the event that you are successful in pulling it off.
*All values (Bet Levels, Maximum Win, etc.) mentioned in relation to this slot game are subject to change at any time