Boxes
Fortune Games® Slots Review of Boxes Slot Game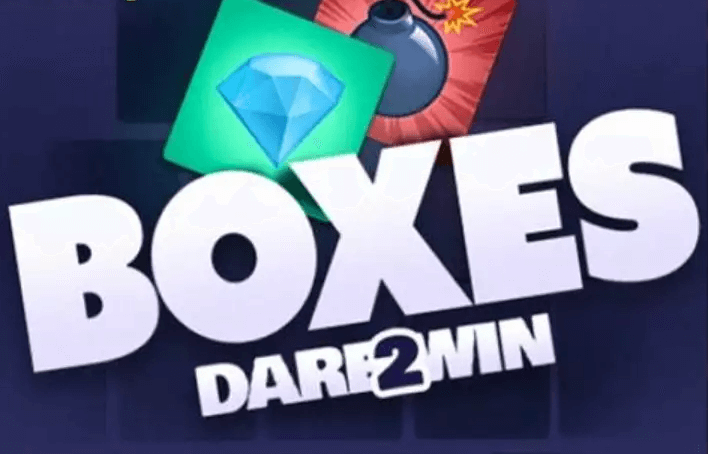 An introduction
There are a couple of things that make this game different from others. In this minesweeper-style game, instead of reels and paylines, big rewards await those who can hold their nerve!
In this game, your objective is to climb the rows of the game pyramid until you reach the top. When you select a box with a diamond, you will be able to move on to the next row and increase your winnings, but if you select a box with a bomb, the game will end and you will lose your money. The first row is the only row you'll need to stake, and each row up after that is free. Following each row, you will have the option of collecting your winnings or moving on to bigger prizes. All that's really required is to climb the pyramid, but be careful, it's not that simple.
Play Boxes at the best slot casinos if you're interested in giving it a shot.
Graphics & Theme
There is a very simple layout to Boxes. Rows are arranged in a pyramid, with more rows at the bottom and fewer at the top. At the game's most complex level, there are 8 rows with 44 boxes all together, while the lowest level has four rows with 14 boxes.
You can choose how many rows you want in your pyramid (4, 5, 6, 7, 8) and what difficulty level you'd like to play with when you open the game. If you choose a higher level of difficulty, each row will contain more bombs, but the potential winnings are greater. For instance, on the easy level, with the standard eight rows, there will be four bombs on the first row. When you reach the top of the pyramid, you have a 50:50 chance of clicking the right box, with 3 bombs on the second row, 2 on the next three, and 1 bomb on the top three rows.
There is a good, clear layout to the game, although the background is quite dark. Diamonds have a green background and bomb symbols have a red background, so following the symbols is easy.
RTP and variance for boxes
Boxes has a return on investment rate of 98%, which is significantly higher than the industry average. Additionally, the volatility depends on the number of rows and level of difficulty you choose when setting up your game.
Playing Boxes: How To Do It
To get started with Boxes, here's a quick guide:
The first step is to select how many rows you'd like to include in the game: 4, 5, 6, 7 or 8. In order to successfully complete the game, you need to select more rows. In addition, you will have to select a level of difficulty from easy, medium, or hard. Throughout the game, you can adjust these settings.
By pressing the menu button to the left of the game, you can review the game rules while you're playing.
In the bottom right corner of the screen, set your stake. You can start the game by pressing the circular bet button when you're ready. Choose any box on the first row and hold your breath to see if you've landed a diamond or a bomb!
Set a time limit for your gaming session when playing Boxes.
Win and Bet Sizes
In this game, you can win as much as 548x your stake. 0.2 is the minimum and 1000 is the maximum bet.
In the game, under the title 'Boxes', you can find a listing of potential payouts. If you collect immediately, the highlighted box shows what your payout would be, while the ones next to it show what you could win if you progress to the second row, third row, etc. As well as telling you the number of diamonds (or bombs) in a row, this bar also informs you how likely you are to pick one.
Bonus Features in Boxes
Since it's a minesweeper game, rather than a traditional slot, it doesn't have any bonus features such as free spins.
Review of Boxes: Our Verdict
Hacksaw Gaming recently released a game that is different from traditional slots. As soon as you get started, the gameplay is quick, smooth, engaging, and a bit addictive. The high return on investment is also appealing, but you will have to have steely nerves to reach the top. This game isn't for everyone, but it's a great option for those looking for something quick and fun.
Check out Hacksaw's King Carrot slot for a fun, vegetable themed game that's basically 1 of your 5 a day if you've tried this Hacksaw game before. You can also play other Hacksaw Gaming slots online.
*All values (Bet Levels, Maximum Win, etc.) mentioned in relation to this slot game are subject to change at any time