7 Piggies Instant
Fortune Games® Slots Review of
7 Piggies Instant

 

Slot Game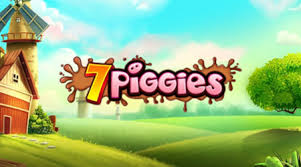 Gameplay Features
In this 7 Piggies slot overview, players will learn about the game's symbols, graphics, rewards, and RTP.
In the game, all the major symbols are based on farm animals. Pigs have been turned into cartoonish and adorable symbols that can keep punters engaged while they place a wager. In this game, there are no regular cards. Each of the pigs has a different colour, so they act as different symbols.
Thus, the company has provided us with 7 symbols in the form of 7 pigs of different colors. There's a twist, though! There are only six pigs on the paytable. Once the players trigger free spins in the 7 Piggies game, the 7th pig appears.
A lot of incredible gambling features can be found in the 7 Piggies by Pragmatic Play. The machine can truly be considered perfect due to all its features.
Gambling and entertainment can both be achieved through it. Among the major attractions of the game are the wild card, scatter mechanism, bonus spins, autoplay mechanism, and jackpot rewards.
A progressive jackpot, however, is bound to be missed by players. Nevertheless, it makes for a strong case for itself, and can therefore be considered by any serious gambler.
The game features multiplier rewards and wild cards in addition to an infinite supply of free spins.
Wild card: the yellow pig with a curious moustache acts as the wild symbol, and he can substitute any other pig if it leads to forming a winning combination.
Multiplier: all the bonus spin rounds are played with 1x multiplier rewards. The multiplier reward can be up to 5x, given the players are able to land more scatter symbols in the free spin rounds. If the players land more scatter symbols in the bonus round, they unlock more spins. Hence the gamblers are given a virtually non-exhausting supply of free spins.
Free Spins: since free spins are the biggest attraction point in any machine, it is going to be our first point of discussion in the 7 Piggies slot review.
In addition to providing shelter for the farm pigs, the piggy house acts as a way to unlock bonus rounds. When the reels have stopped spinning, players should pay attention to the piggy house symbols.
In the event that they land three or more of these symbols, they are immediately awarded five extra spins. Here is a guide to help you score big wins with 7 Piggies after discussing its features.
High-Value Symbols:
Pig Worker- 
3 of them=  £3
4 of them=  £1
5 of them= 40p
Pig Queen-
3 of them= £1
4 of them= 30p
5 of them= 10p
Pig Dracula-
3 of them= £1
4 of them= 30p
5 of them= 10p
Pig in Sunglasses-
3 of them= 30p
4 of them= 10p
5 of them= 6p
Pig Baby-
3 of them= 30p
4 of them= 10p
5 of them= 6p
Pig king-
3 of them= £30
4 of them= £8
5 of them=£1
*All values (Bet Levels, Maximum Win, etc.) mentioned in relation to this slot game are subject to change at any time