20p Roulette
Fortune Games
®

Slots Review of

20p Roulette Casino

 Game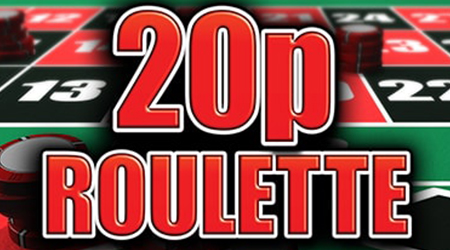 If you're looking for a game with high tempo play and low limits, then this is the one for you. Taking a no frills approach to gaming, the classic layout and retro graphics make 20p Roulette suitable for all players and pockets whilst giving you all the nostalgia of old school casino roulette.  
Place chips as low as 20p on any given number or combination and simply spin the wheel whenever you're ready. With no one rushing your next move and no time limit, this game can be played at your pace. 
HOW TO PLAY
If you're already familiar with the concept of roulette then you'll pick up 20p Roulette immediately, and if the game is completely new to you, then this a great game to learn how the classic is played.
After selecting your stake and then placing it on the betting grid, just as you'd place chips, the game will begin. You can choose to bet on Black or Red, evens or odds, thirds of the grid, columns of numbers, single numbers or combinations of 2 to 6 numbers by placing your stake on the corresponding locations. When you hear 'no more bets please' the wheel will be set spinning and the little ball will be dropped onto it, depending on where the ball lands and if it corresponds to your stake will determine your winnings. 
Game Information
Slot Name: 20p Roulette
Software: Nyx
Min stake: 20p
Max stake: £10,000.00
Max payout: £250,000.00
Jackpot: No
Reels: 
Paylines: Roulette Framework
RTP: 97.30%