10p Roulette
Fortune Games® Slots Review of 10p Roulette Slot Game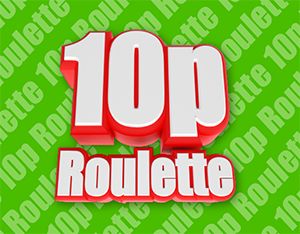 How to play
Roulette is an easy and straightforward game to learn. The first step is to choose your bets. Each of the five bet options is represented by a colorful chip at the bottom of the screen.
There are five values: £0.10, £0.25, £0.50, £1, and £5. A straight bet is limited to £815, but you can wager up to £1,000 per turn.
Click or tap the chips that you want to wager with, then click the desired betting square on the table. The next section discusses all the possible types of bets.
Click the Undo button to retract your last bet, set up Autoplay, or click the x2 button to double your wager. Additionally, your bets don't disappear between turns. You can clear them by pressing the large X below the game table. 
Symbols and payouts
10P Roulette has 37 pockets, like other versions of European roulette. Along with the numbers one through 36, there is a single zero pocket. This game allows you to place both inside and outside bets.
There are four types of bets you can place: straight, split, three-line (also called street), and corner. In addition, you can bet on dozens, halves, evens/odds, and reds/blacks.
Whenever you spin, the five most recent winning numbers are displayed in the upper-righthand corner, and they update every time. There is a 35:1 payout on straight bets. The next two are splits at 17:1 and streets at 11:1. A 1:1 payout is awarded when you win on colors, evens/odds, or dozens.
Interestingly enough, the highest amount you can wager for a straight bet is £815. In contrast, you can wager up to £1,000 for any other bet, including splits. Regardless of how many bets you place, the sum of your wagers can never exceed £1,000. The biggest win possible per spin is a straight bet of £815 multiplied by the 35x payout, which is £28,525.
Best 10P Roulette bonus feature
In essence, this is a very simple version of European roulette. There is no 10P Roulette bonus feature or free spins associated with 10P Roulette.
While seasoned gamblers or high rollers may not enjoy this slot game, novices and casual gamers will love it. Despite the limited effects, the table is easy to read and the betting options are clear.
It's easy to continue betting the same or similar amounts each turn since your last bet isn't automatically removed. Autoplay is the best tool that players can use.
As well as setting up the number of spins you would like, you can also choose how much your cash will decrease before the spins stop. You can even set it to stop once you've won a certain amount.
RTP & volatility
97.3% is the RTP of 10P Roulette, which is standard for European roulette games. A roulette game's volatility isn't typically stated, but it has been rated medium variance by the provider. Your choice of bets will determine the volatility. Outside bets have the lowest volatility.
You'll earn 1:1 wins on outside bets with a roughly 50% chance of winning. You can place inside bets such as straights and splits for a riskier game. When you do receive those wins, you'll enjoy high payouts.
*All values (Bet Levels, Maximum Win, etc.) mentioned in relation to this slot game are subject to change at any time